movies news
Jim Carrey Once Pitched A Dumb & Dumber Found-Footage Horror Movie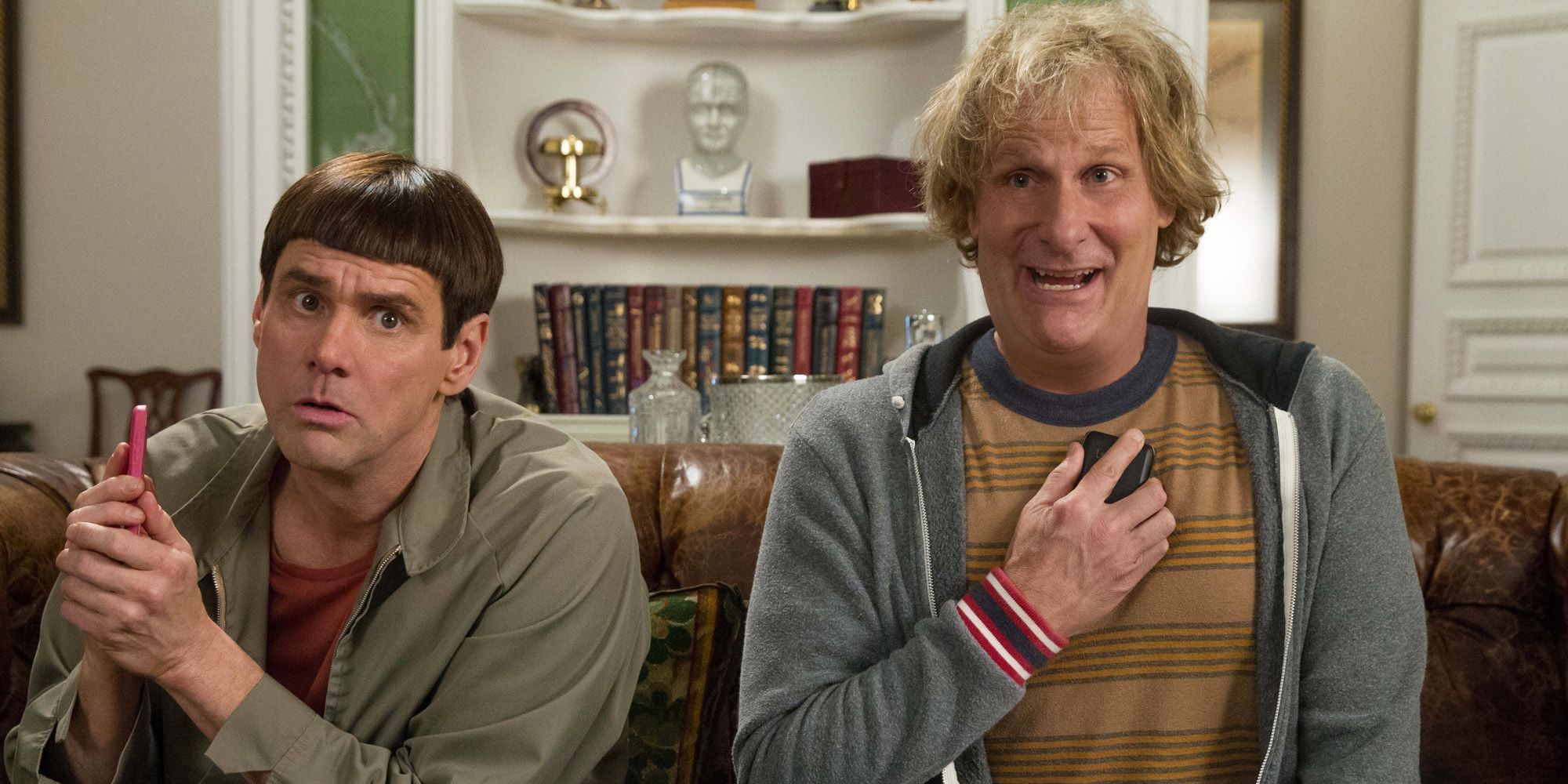 Jim Carrey wanted to make a found-footage horror movie on the set of Dumb and Dumber To. One of Carrey's many iconic comedies from the 1990s, Dumb and Dumber stars him and Jeff Daniels as Lloyd Christmas and Harry Dunne, two dimwitted yet well-intentioned pals who embark on a cross-country road trip to return a suitcase full of money to its rightful owner, not realizing it was actually left behind as ransom. The 1994 screwball comedy received a belated sequel, Dumb and Dumber To, in 2014 that followed a similar premise, though it paled in comparison to the original.
The first Dumb and Dumber was filmed partially at the Stanley Hotel in Colorado, which is where Stephen King got the idea for The Shining, and the cast and crew apparently experienced many haunted incidents during production. This gave Carrey the idea to film a horror movie during the production of Dumb and Dumber To. Inspired by Paranormal Activity, Carrey thought the horror movie should be filmed found-footage style and even approached the directing duo known as Daniels, Daniel Kwan and Daniel Scheinert, about making it. During a recent roundtable discussion hosted by The Hollywood Reporter, Kwan recounts the unbelievable story about the Dumb and Dumber horror film that never happened. Read what he said below:
Very early in our careers, Jim Carrey reached out. He had just seen Paranormal Activity and was like, "Guys, it's found footage and it's horror — have you seen it?" And we were like, "Uh-huh, we've heard of it. Where is this going?" And he was like, "I haven't seen anyone do that — but with comedy. And I have this great idea." Basically, the set of Dumb and Dumber was famously a haunted set. He's like, "The whole time we were shooting, things were breaking, people were getting hurt, doors were swinging, and it felt haunted. We're going to shoot Dumb and Dumber To, and I want you guys to do a found-footage horror comedy on the set. While we're filming, you guys are going to make a feature-length, behind-the-scenes video that slowly becomes a horror film." We're like, "OK, we're in. This is amazing." We wrote a whole outline and were really excited.​​​​​​​ Then we sat down with the producer, we pitched the idea, and they're like, "We're not actually going to make this. I'm sorry, Jim got really excited, but there's no way the studio is going to let us do a movie while they're shooting Dumb and Dumber To."
Related: Dumb And Dumber Cast Now: Biggest Movies Since & What They Look Like
Why Daniels Were Perfect For The Dumb and Dumber Horror Movie
In recent years, Kwan and Scheinert have garnered quite the reputation for directing offbeat films. Their debut feature, 2016's Swiss Army Man, starred Daniel Radcliffe as a famously flatulent corpse. This year's Everything Everywhere All at Once stars Michelle Yeoh as a laundromat owner who, while attempting to sort out her taxes, discovers her greater purpose is to save the multiverse. However, the Dumb and Dumber horror movie had the potential to be even been weirder than both of those films combined.
The Daniels were the perfect choice to direct something as peculiar as a Dumb and Dumber found-footage horror movie. However, it's incredible that Carrey knew that at the time considering it was still early in Kwan and Scheinert's careers. The duo had yet to make Swiss Army Man and had only directed a number of music videos. They did, however, direct the popular music video for DJ Snake and Lil Jon's single "Turn Down for What," which was a suitable demonstration of their eccentric directorial style and likely why Carrey approached them with his bizarre idea.
It was recently revealed that Carrey was once interested in making a Bruce Almighty sequel titled "Brucifer," which saw his titular character gain the powers of Satan instead of God. Now, his Dumb and Dumber horror idea can be added to the list of unrealized projects Carrey never go to make. With the comedic actor announcing his retirement from acting after Sonic the Hedgehog 2, these are likely just two of many. To help audiences cope with this unfortunate reality, they can revisit the timeless classic that is Dumb and Dumber and its sequel, Dumb and Dumber To.
Next: Why Sequels To Jim Carrey Movies Never Work Without Him
Source: THR
Source link