Movies news
Indiana Jones 5 Image & Director Tease Phoebe Waller-Bridge's Role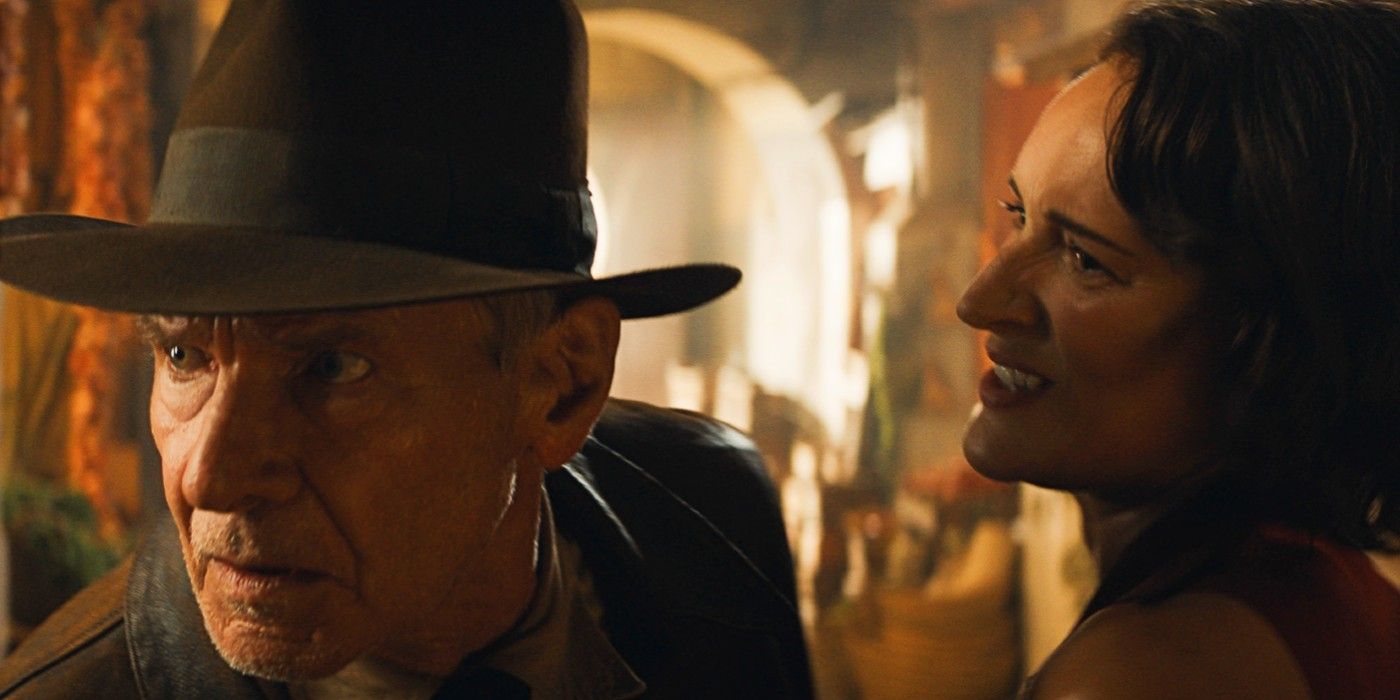 A new Indiana Jones and the Dial of Destiny image teases the importance of Indy's goddaughter Helena, aided by comments from director James Mangold.
A new Indiana Jones and the Dial of Destiny image and director James Mangold tease the importance of Phoebe Waller-Bridge's Helena. The upcoming film is the fifth in the franchise featuring Harrison Ford as the fedora-wearing and whip-cracking archeologist. Indiana Jones and the Dial Destiny marks the franchise debuts of Mangold (Logan, Ford v Ferrari) as director and Waller-Bridge (Fleabag) as Helena, Indy's goddaughter who accompanies him on his latest adventure involving Nazis, this time set against the backdrop of the Space Race and moon landing in 1969.
Now, per EW, a new Indiana Jones and the Dial Destiny image reveals another look at Ford's titular archeologist and Helena on an adventure together. Mangold also teases the importance of Waller-Bridge's character in the story and hopes that Helena's arrival will infuse Dial of Destiny with the feeling of a classic Indy adventure. Check out the new image and read Mangold's comments below:
She's a daughter of a friend of Indy's, who we will also meet in the movie. Helena's gotten herself in a bit of trouble, and brings [that] to Indy's doorstep. She's a character who's a wonderful set of contradictions — charming and brilliant, but also a lot of trouble.
Related: Dial Of Destiny's De-Aging Makes Indiana Jones 6 A Real Possibility
Phoebe Waller-Bridge's Indiana Jones 5 Character Explained
After being cast in April 2021, producer Frank Marshall revealed the first details about Waller-Bridge's character, including her name and her relation to Indy as his goddaughter. Composer John Williams also described her as "a femme fatale," with Mangold's comments now supporting that characterization, as the Indiana Jones and the Dial of Destiny director says that Helena drags her godfather into a problem of hers. At this point, the identity of Helena's father is still unknown, though Mangold says audiences will meet him in the movie, as he is Indy's friend.
While much about Helena remains unknown, it's becoming increasingly clear that Waller-Bridge's character will be crucial to Dial of Destiny as Indy's sidekick, similar to Shia LaBeouf's Mutt Williams from Indiana Jones and the Kingdom of the Crystal Skull, whose absence will be addressed in the fifth film. Hopefully, the Fleabag phenom's portrayal of Helena will be an improvement over Indy's last sidekick, as the young, motorcycle-riding greaser was not well-received by audiences and later criticized by LaBeouf himself.
Waller-Bridge is best known for her irreverent brand of humor and frequent fourth-wall breaks from the Prime Video series Fleabag. Her introduction in Indiana Jones and the Dial Destiny is highly-anticipated, as those familiar with her comedic talent are looking forward to her chemistry with Ford's Indy. The iconic character is also known for his dry humor and his comical relationships with his sidekicks, such as The Temple of Doom's Short Round. Only time will tell how Waller-Bridge's Helena compares to the franchise's pantheon of sidekicks when Indiana Jones and the Dial of Destiny releases in theaters.
More: Why Indy Is Fighting The Nazis A THIRD Time In Indiana Jones 5
Source: EW
Indiana Jones and the Dial of Destiny
Source link