World News
Bryan Kohberger's lawyer sends defense investigators to crime scene: source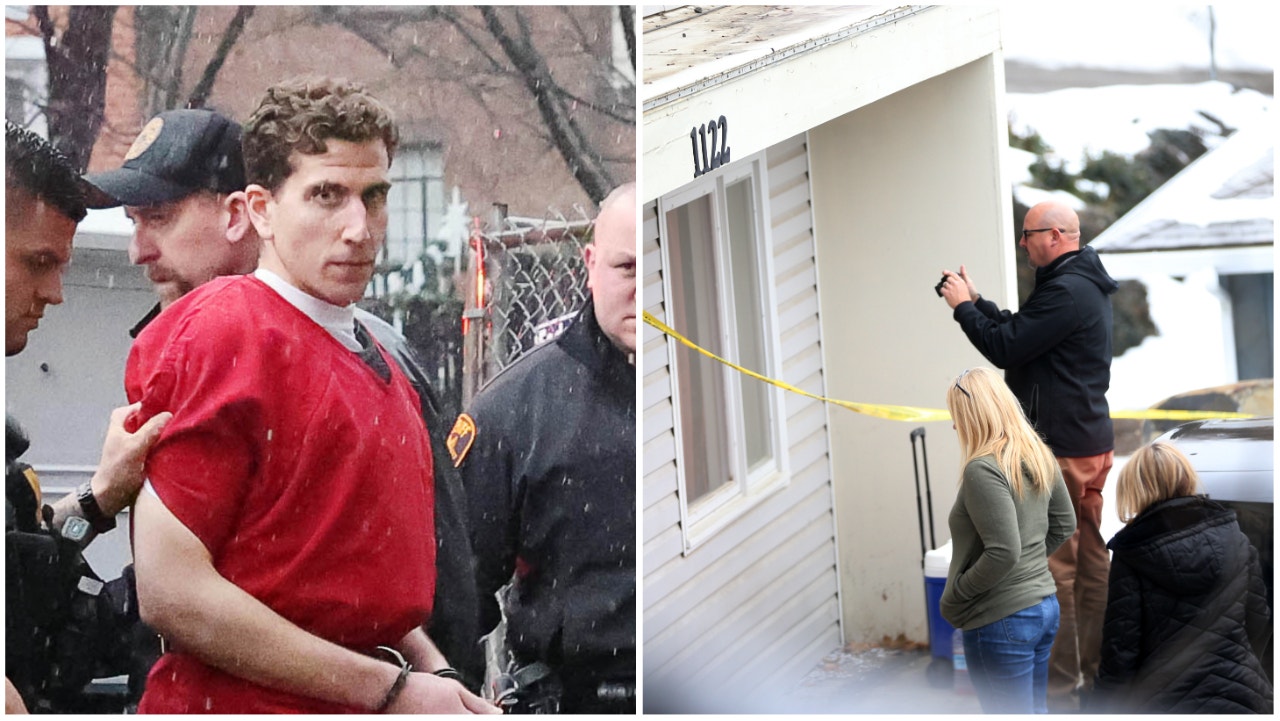 EXCLUSIVE – MOSCOW, Idaho — Investigators hired by Bryan Kohberger's defense team arrived Tuesday at the home where he's accused of fatally stabbing four University of Idaho students, Fox News Digital has learned.
Three men and two women arrived at the King Road house at about noon Eastern time and spent 45 minutes taking video inside and outside the property.
Kaylee Goncalves, Ethan Chapin, Xana Kernodle and Madison Mogen were knifed to death in the early morning hours of Nov. 13 on the second and third floors of the home.
Four of the investigators left after touring the home Tuesday, while a crime scene reconstruction analyst remained.
UNIVERSITY OF IDAHO MURDERS TIMELINE: WHAT WE KNOW ABOUT THE SLAUGHTER OF FOUR STUDENTS
An Idaho State Police trooper accompanied the group. The Idaho lawyer who is representing the accused mass murderer hasn't been publicly identified.
"The fact that Bryan Kohberger's attorney has brought in private investigators to go throughout this crime scene leads me to believe that he is definitely going to mount a strong defense," said Fox News contributor Ted Williams, a former homicide detective and attorney.
"The fact that Bryan Kohberger's attorney has brought in private investigators to go throughout this crime scene leads me to believe that he is definitely going to mount a strong defense."

— Ted Williams, Fox News contributor and former homicide detective
A cleaning crew arrived at the murder scene last Friday to clear the home of biohazards and harmful substances in preparation for turning the property back over to the owner.
But at a press conference later Friday to announce the arrest of Kohberger, Moscow Police Chief James Fry said that remediation efforts at the home were halted after receiving a "legal request from the court."
IDAHO MURDER SUSPECT: WHO IS BRYAN CHRISTOPHER KOHBERGER?
Kohberger was arrested Friday at about 1:30 a.m. Eastern time at his parents' home in Albrightsville, Pennsylvania, which about 2,500 miles from the crime scene in Idaho.
The Washington State University Ph.D. student and teaching assistant in the criminal justice and criminology program wrapped up the semester before driving home with his father for the holidays.
He was due in Monroe County Court in Stroudsburg for an extradition hearing Tuesday afternoon.
IDAHO MURDER SUSPECT KOHBERGER'S PENNSYLVANIA CLASSMATES SAY HE WAS 'BRIGHT,' AWKWARD, BULLIED IN SCHOOL
Jason Labar, a public defender who is representing Kohberger only in the extradition matter, said his client plans to voluntarily return to Idaho, where he's charged with four counts of first-degree murder and one count of felony burglary.
Kohberger believes he will be exonerated, and his parents believe their son isn't behind the horrific slayings, LaBar told NBC News.
The slain college students were ambushed in their sleep and each stabbed multiple times, according to police.
IDAHO MURDERS: SUSPECT BRYAN CHRISTOPHER KOHBERGER ARRESTED IN KILLINGS OF 4 UNIVERSITY STUDENTS
Officials have not publicly disclosed a motive for the gruesome rampage or recovered the fixed-blade knife they believe was used in the attack.
Once Kohberger returns to Idaho, the probable cause affidavit outlining his alleged crimes will be unsealed, Latah County Prosecutor Bill Thompson said last week.
The court document could offer more insight into Kohberger's possible motive and connection to the victims.
CLICK HERE TO GET THE FOX NEWS APP
Nearly seven weeks after the murders, Kohberger was arrested after authorities matched DNA he allegedly left at the crime scene to an immediate family member who had submitted their DNA to a genealogy testing website, a law enforcement source told Fox News.
 Haley Chi-Sing, Michael Ruiz and Stephanie Pagones contributed to this report.
Source link