Sports news
Giannis Antetokounmpo content with 'boring tag' but Milwaukee Bucks' star player's explosive stats are anything but | NBA News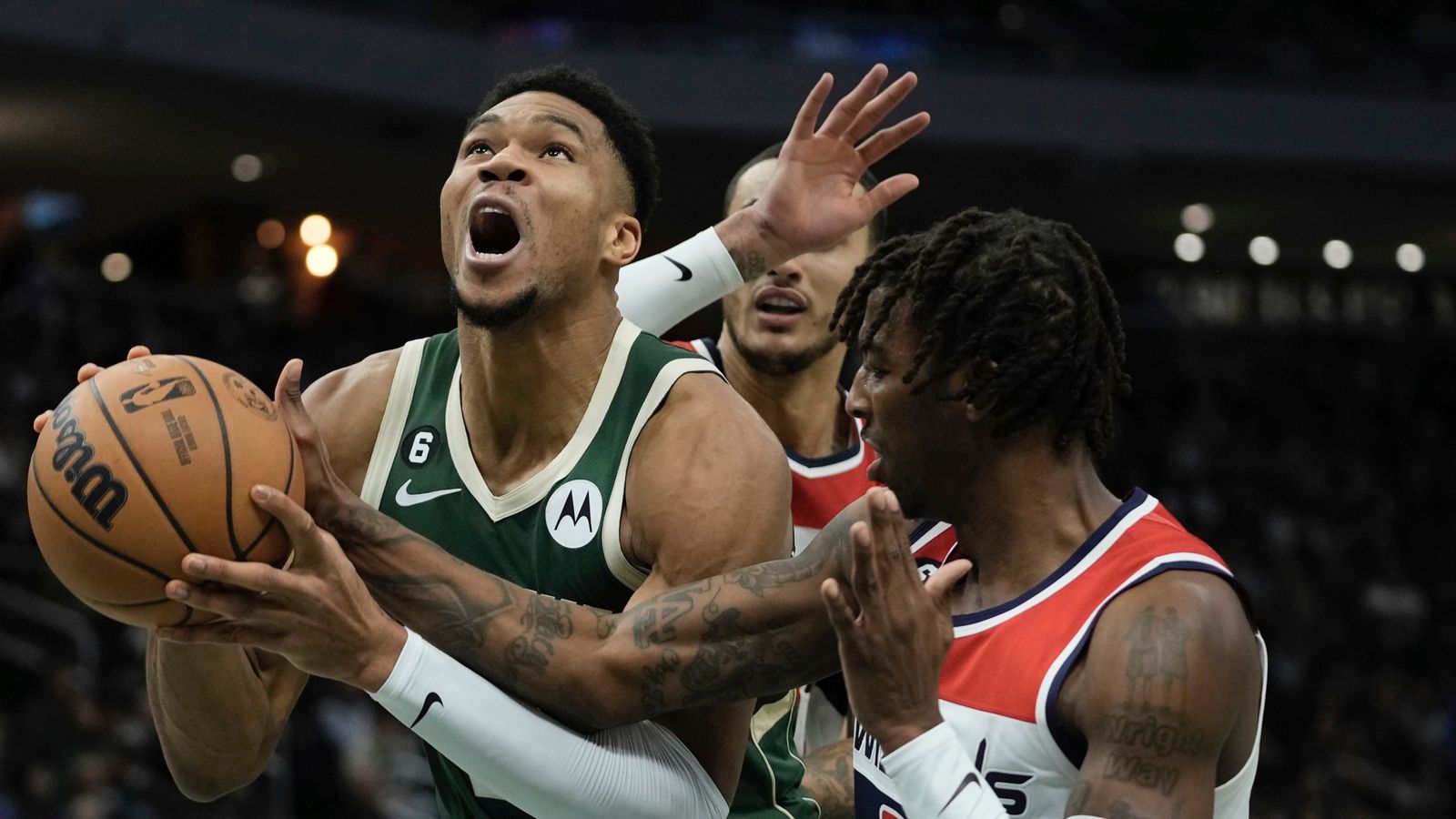 Milwaukee Bucks' Giannis Antetokounmpo strived to be 'boring' in his consistency this season but his form in recent weeks could be classed as anything but boring.
Giannis scored a career-high 55 points against the Washington Wizards in a 123-113 win on Tuesday. In doing so, he racked up his third, 40-point, triple-double in as many games.
"I want to get in a position…that my game is boring," Antetokounmpo said. "That's what I want to do. I want other people to feel like my game is boring".
Collecting at least 40 points, 10 rebounds and five assists in games might be a norm, as he did against the Wizards, but Giannis is careful to point out he himself never gets bored, instead this is an effect he wants to have on others.
"I don't get bored. The greats – the best players – never get bored," he said. "They go out there and they always give their best any given night."
The only other Bucks players to score at least 40 points in three straight appearances have been Flynn Robinson in February 1969 and Kareem Abdul-Jaffar in February 1972.
It was an historic night for Milwaukee Bucks star Giannis Antetokounmpo who notched 55 points in a dominant display to help his team see off the Washington Wizards.

Unfortunately, Giannis hasn't quite smoothed out all the kinks in his effort to be 'boring'. There are plenty who are still in awe over his gravity-defying leaps and ruthless shooting.
Teammate Brook Lopez, who has played alongside Giannis for five seasons, couldn't recall a regular-season stretch in which Giannis had played better than this, describing him as so 'otherworldly'.
'When you think where else can he go and how else can he improve, he just improves again. We're going to have to expand the English language in some way to come up with words [to describe him]'.
Bucks coach Mike Budenholzer echoed Lopez' sentiments, saying: "He's just been so phenomenal, he's been kind of playing with this determination, winning us games."
Highlights of the Washington Wizards' clash with the Milwaukee Bucks in Week 12 of the NBA.

Seemingly, there is still a little way to go in convincing the people around him that 55 points a game can become the norm. But perhaps the takeaway message here is that the 7-footer has plans to keep hitting these heights and that we should all get comfortable in his MVP-reaching consistency.
Giannis and his team will have the opportunity to put that to the test when they face the Toronto Raptors on Thursday evening.
Source link