Sports news
Saudi Arabia launches 'beyond imagination' PSG match ticket priced at 2 million Riyals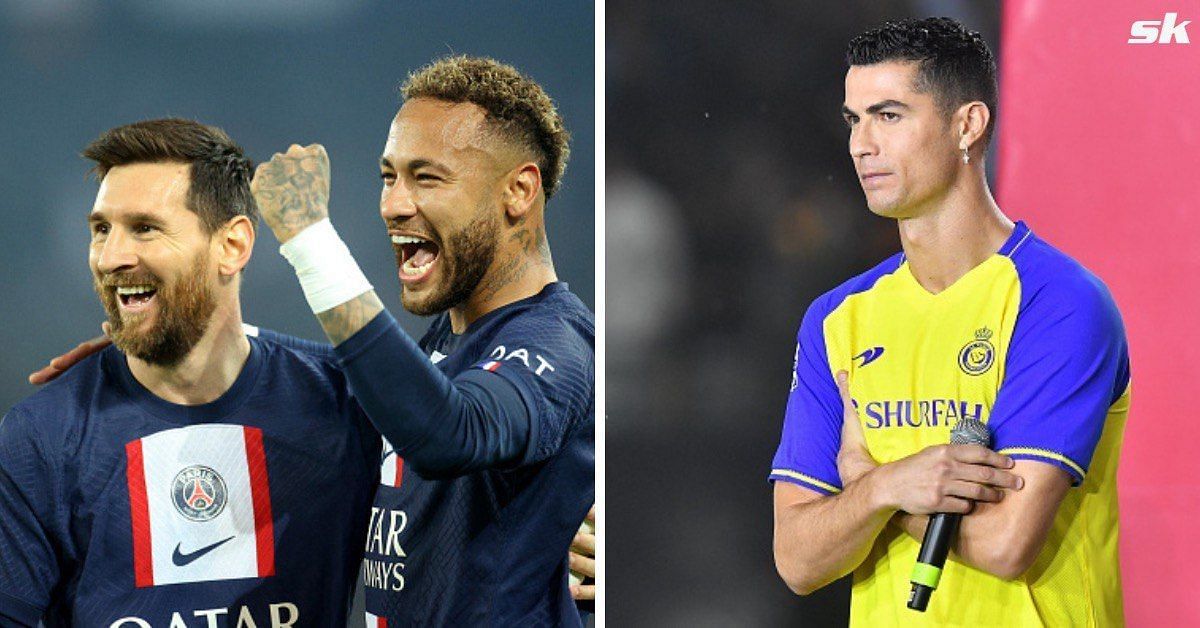 Saudi Arabian organisers have launched a special ticket for an upcoming game that could see long-time rivals, Cristiano Ronaldo and Lionel Messi, square off in the Middle East.
Ligue 1 leaders Paris Saint-Germain (PSG) will take on a star-studded team featuring players from Al Nassr and Al Hilal, in a friendly in Riyadh on January 19. Ronaldo, who was presented as an Al Nassr player earlier this month, could make his first appearance on Saudi soil in that game.
The Portuguese superstar, who is expected to earn $200 million per year during his two-and-a-half-year stay (till June 2025) in Saudi Arabia, is currently serving a carry-over suspension from the FA.
Watching Messi, Mbappe, Neymar and Ronaldo together on the pitch is a privilege in itself. However, the organisers of the charity game are going a step further to make it a memorable night for deep-pocketed fans.
As noted by UD Almeria owner and chairman of the General Entertainment Authority (GEA), Turki Al-Sheikh, a special 'Beyond Imagination' ticket has been put on sale, which could make the night unforgettable for fans.
According to the Khaleej Times, the special ticket would allow its holder to attend the opening ceremony, sit next to Al-Sheikh and meet Ronaldo, Messi, Neymar, and Mbappe. Additionally, they will be allowed to enter both dressing rooms, participate in the crowning ceremony, attend the gala lunch and click a picture with the winning team.
The bidding for the ticket started at 250,000 euros (985,000 riyals) but has now climbed to 700,000 euros (2.7 million riyals) after receiving 1.5 million requests. The bidding will remain open till January 17, 11:30 pm KSA time. The proceedings will go to a charity foundation called Ehsan.
---
Ronaldo's Al Nassr coach Rudi Garcia unhappy with timing of friendly clash with Messi's PSG
Al Nassr boss Rudi Garcia has questioned the timing of the upcoming friendly against PSG. Garcia admitted that the organisers should have been more thoughtful with the placement of the fixture, as Al Nassr have a Saudi Pro League game three days after the friendly.
"As the coach of Al Nassr, I cannot be happy with this match. For development, to see PSG, to see the great Parisian players, indeed it is a good thing. But we have a championship game three days later," Garcia said (via ESPN]).
He continued:
"In terms of scheduling, it could have been better thought out. But it's not a big deal … We are in the lead; we are happy. It is a difficult championship to win, but we intend to do it."
Ronaldo, who is currently serving a domestic suspension for knocking a phone out of an Everton fan's hand in April 2022, could play in the friendly, Garcia confirmed.
"It (his debut) won't be with the Al Nassr jersey. It will be a mix between Al Hilal and Al Nassr."
Messi's arch-rival is set to miss the clash against Al Shabab on Saturday (January 14) but will be available for selection against Ettifaq eight days later.€
Edited by Sushan Chakraborty
var fbPixelFired = false;
document.addEventListener("scroll", function() { loadFBPixel() });
document.addEventListener("mousemove", function() { loadFBPixel() });
function loadFBPixel() {
if(fbPixelFired) {
return;
}
fbPixelFired = true;
!function(f,b,e,v,n,t,s){if(f.fbq)return;n=f.fbq=function(){n.callMethod?
n.callMethod.apply(n,arguments):n.queue.push(arguments)};if(!f._fbq)f._fbq=n;
n.push=n;n.loaded=!0;n.version='2.0′;n.queue=[];t=b.createElement(e);t.async=!0;
t.src=v;s=b.getElementsByTagName(e)[0];s.parentNode.insertBefore(t,s)}(window,
document,'script','
fbq('init', '952063904834769');
fbq('track', "PageView");
fbq('track', 'ViewContent');
}
Source link