World News
After Biden scandal, former CIA attorney worries about 'over-criminalizing' the mishandling of classified docs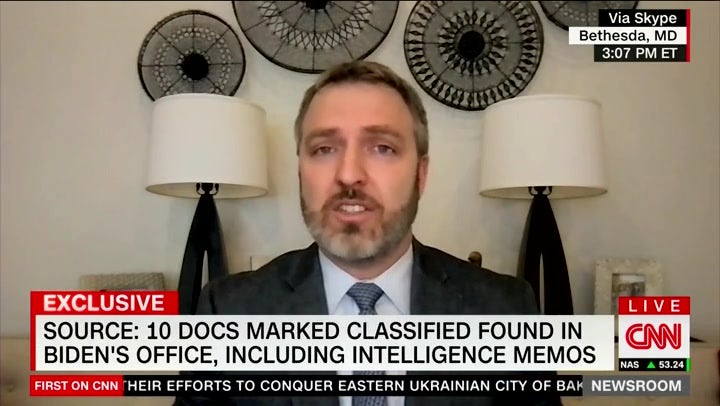 A CNN segment on Tuesday discussed how "easy" it is to mishandle classified government documents. 
Former President Trump was embroiled in a scandal over the summer regarding government documents kept at his Mar-A-Lago estate in Florida. Now that President Biden appears to have mishandled classified documents as well, some parts of the media appear to be far less outraged over the issue. 
"You were also involved in the Hillary Clinton classified information issue," CNN Newsroom host Alisyn Camerota said to former CIA lawyer Brian Greer. "How easy is this? How easy is it to walk out of some secure facility – the White House, with classified documents? How often does this happen?"
Greer suggested that such is a mistake is not only easy to make, but a daily occurrence. 
UNLIKE TRUMP, BIDEN DIDN'T TAKE CLASSIFIED DOCUMENTS 'WILLFULLY,' MSNBC ANALYST ARGUES
"With a situation like this, doesn't happen that often but more generally speaking, mishandling of classified information does happen quite a bit – every day within the federal government," Greer said. 
"It's the sad reality of the situation where people are not properly trained and proper procedures aren't in place to catch this kind of thing. And look back now, we've had the last two presidential elections, the major party candidates of both parties now have all been at one time now under investigation for mishandling classified information," he continued.
Host Victor Blackwell asked Greer to explain his statement that there is a "danger in over-criminalizing mishandling of classified information."
BIDEN 'SURPRISED' TO LEARN OF CLASSIFIED DOCS AT PENN THINK TANK: 'I DON'T KNOW' WHAT'S IN THEM
Greer suggested that because "the criminal statutes that are out there that are old and quite vague, almost any mishandling case could potentially be shoehorned into a criminal investigation."
Greer then circled back to his earlier point, "Because this type of mishandling happens all the time and now it's become such a political football with all three last presidential candidates being investigated, I do worry about – while we need to take this all seriously and needs to be investigated, I do worry about over-criminalizing it."
CLICK HERE TO GET THE FOX NEWS APP
He said that some cases for government employees should have them "disciplined or fired, but launching these full investigations that become political footballs is dangerous because it can disincentivize people from serving in the federal government." 
He continued, "We do want to incentivize them to do the right thing, which is to report it when it happens and not do the wrong thing to conceal and obstruct, which is what Trump did."
Source link