Movies news
Avatar 2 Water Scenes With Kate Winslet Were Cathartic, Says Cameron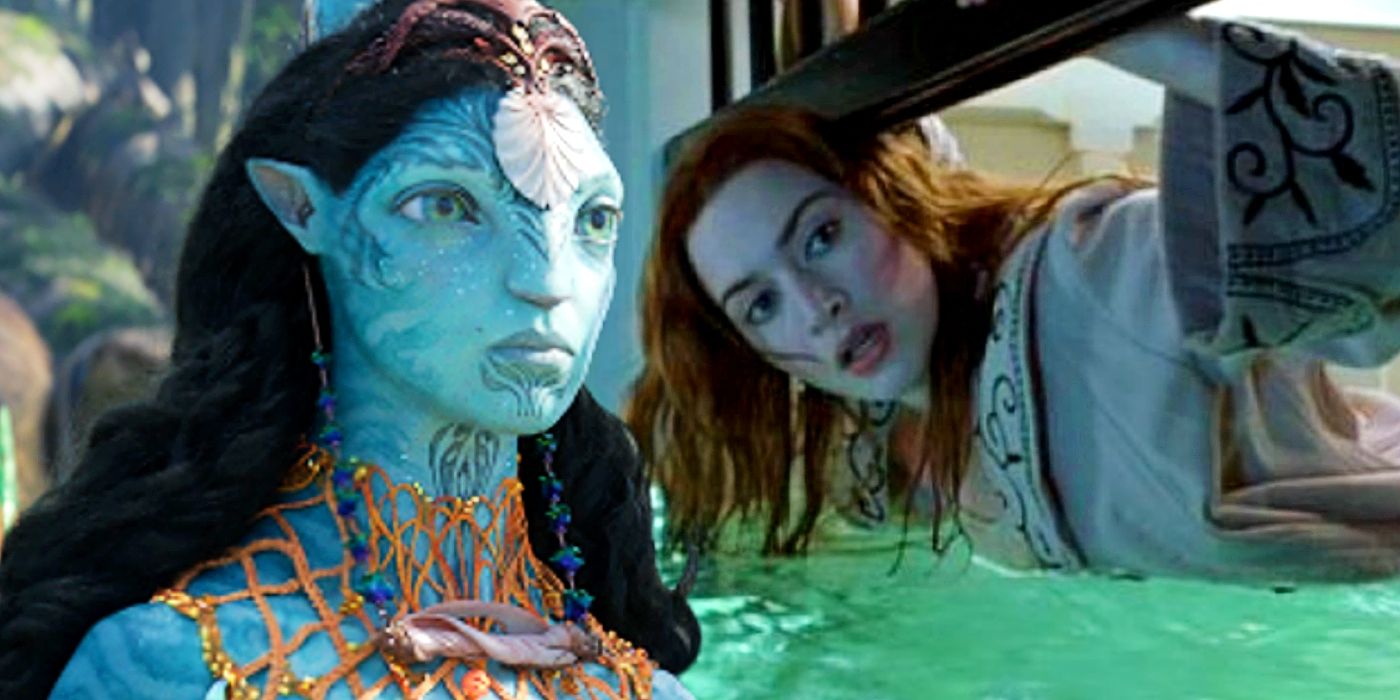 Director James Cameron jokes that filming Kate Winslet's water scenes in Avatar: The Way of Water was a cathartic experience after making Titanic.
Warning! Spoilers ahead for Avatar: The Way of Water.After their experience making Titanic together, James Cameron jokes that filming in a water tank with Kate Winslet for Avatar: The Way of Water was a cathartic experience. Serving as the sequel to Cameron's 2009 original film, Avatar: The Way of Water catches up with Jake (Sam Worthington), Neytiri (Zoe Saldaña), and their children 13 years later. After the return of human forces to Pandora, the film sees the Sully family forced to uproot their life and take refuge with a new water clan of Na'vi called the Metkayina, led by Winslet's Ronal and Cliff Curtis' Tonowari.
In a recent interview with EW, Cameron addresses whether it was difficult to convince Winslet to agree to Avatar: The Way of Water, which had a very water-centric production, after their shared experiences with water filming on Titanic. After joking that the experience filming the Avatar sequel gave them both a sense of "catharsis," the director reveals that Winslet was actually more than ready to get back into a large water tank for another big production. Check out Cameron's full comment below:
"I felt that she needed it from a therapeutic standpoint. We both needed the catharsis. She was actually super gung ho about it because she related to that as a physical thing that she could latch onto. First of all, she loves the water. Her husband is really into board sports and kite surfing and all that sort of thing, so she's very, very comfortable in the water. She actually saw it as a way to prep for her character, 'cause Kate is all about preparation and metaphorically and physically going deep. So she latched right onto it. But the kicker was that her kids said, 'Mom, don't be stupid. Do Avatar.'"
Related: Avatar 2 Is Skipping One Of Its Biggest Na'vi Battles
Will Kate Winslet's Avatar Character Return After The Way Of Water?
The strong audience response to and exceptional box office performance of Avatar: The Way of Water means that films 3, 4, and 5 will likely all be moving forward. While Disney has yet to officially announce anything, Cameron has essentially confirmed that Avatar 3, which is already filmed and in post-production, and the other squels will all be moving forward. No specific story details for future franchise movies have been released just yet, but the ending to the most recent sequel suggests that the Metkayina tribe will continue to play an important role in the movies to come.
During the climactic battle of Avatar: The Way of Water, Ronal, despite being pregnant, helps to fight off the RDA in their massive water vessel. The movie ends with Jake and the rest of the Sully family being officially honored as Metkayina and Worthington's character affirming that his family is done running from the humans. With the Sully family deciding at the end of Avatar: The Way of Water to stay put in their new reef village home, Ronal and Tonowari could end up becoming even more important characters as the story progresses. It's unclear whether Avatar 3 will feature a time jump, but it's likely that Winslet's character will also end up giving birth in one of the future sequels.
The Avatar franchise is very much about the Sully family and their struggles, but supporting characters like Ronal, Tonowari, Tsireya (Bailey Bass), and other members of the Metkayina play a crucial role in the overall fight against Pandora's human invaders. Considering the story for the third film was originally included in Avatar: The Way of Water before it was then broken up into two movies, it seems very likely that, at the very least, Winslet's character will return in one sequel. Unfortunately, it looks like audiences will have at least two years to wait before the third film hits theaters.
More: Did James Cameron Intentionally Rip Off Titanic In Avatar 2?
Source: EW
Source link