Movies news
4 Wrestlers Adam Cole Could Feud With After Shocking AEW Dynamite Return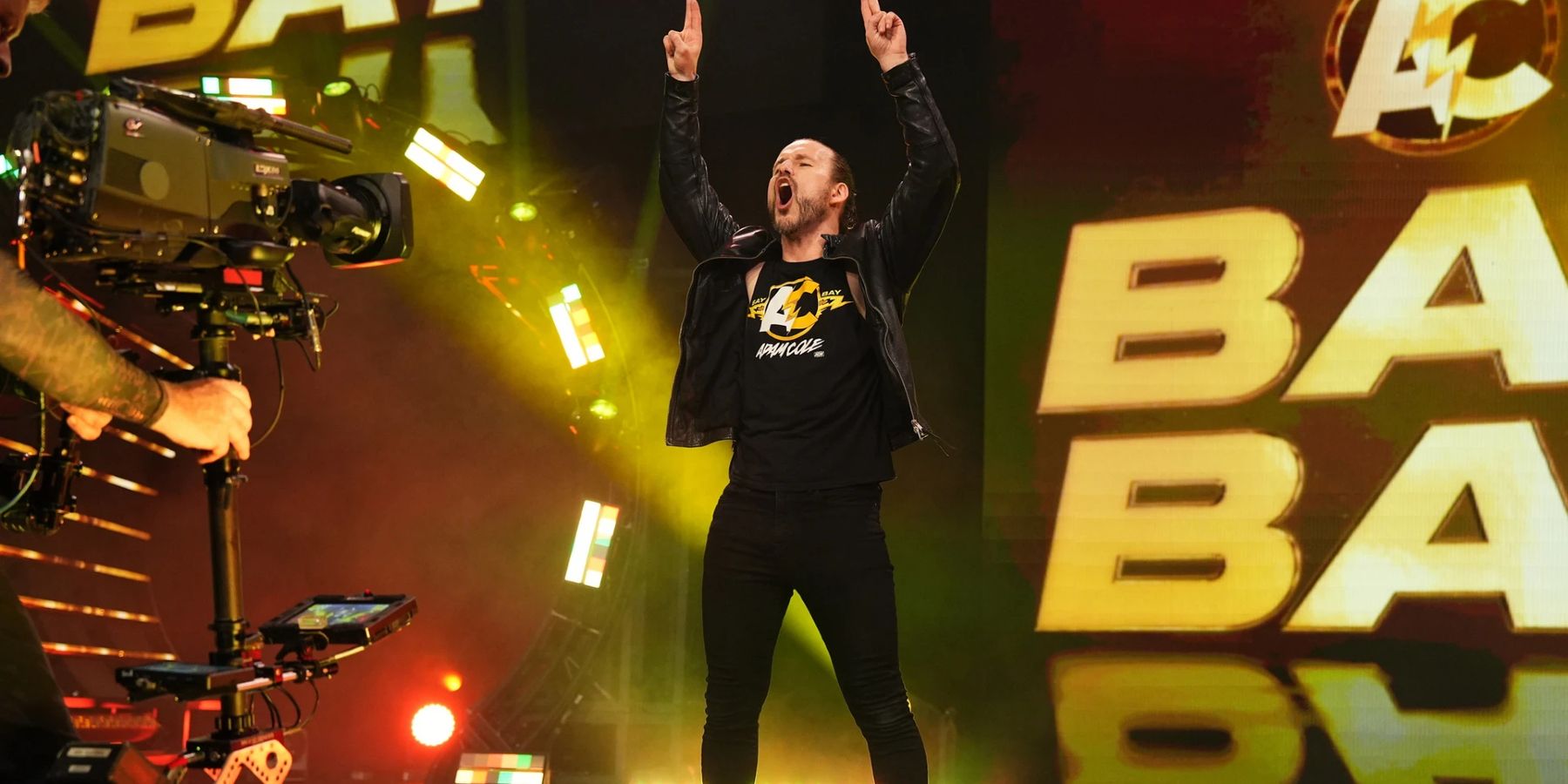 All Elite Wrestling teased big surprises for the January 11 episode of Dynamite, and Adam Cole turned out to be the biggest (and most pleasant) one. His comeback segment was wonderfully done, with two bait-and-switch tactics used to get the most out of his return. First, Tony Schiavone was under the impression that he'd be interviewing MJF. Instead, Cole's music hit and the Kia Forum went ballistic. Then, the 33-year-old played the crowd a bit, posturing as if his concussion issues were going to force him to retire. That turned out not to be the case either, as Adam Cole looked into the camera and put the entire AEW locker room on notice.
On a Dynamite that needed several impactful moments, Cole's return was a big one. Fans hadn't seen the Panama City Playboy since Forbidden Door. He was in a fatal four way that night, but was injured badly enough that Jay White called an audible and finished the match early. That was on June 26, and updates on Cole had been few and far between since. At least until he walked through the tunnel on Dynamite. It's exciting to see him back, and it's even more compelling to think about who Cole will feud with now that he's healthy. We'll be operating under the assumption that he'll be a babyface. After more than six months on the shelf, it's tough to imagine Tony Khan wanting to turn fans against Cole at this point. In no particular order, here are four possibilities for Adam Cole's first feud.
Related: Why Running Live Events Would Be A Game Changer For AEW
4/4

Miro

After being one of the most underutilized wrestlers in WWE for years, Miro has now become the same thing in AEW. The 38-year-old was only in four matches in 2022, and fans haven't seen him since All Out on September 4. It seemed like Khan had plans for Miro following the re-debut of The Redeemer gimmick, but none of his programs ended up going anywhere. His feud with House of Black was highly forgettable, and he hasn't done much of anything for the company since losing the TNT Championship to Sammy Guevara in September. That's why a feud with Adam Cole might be an exciting possibility for Miro.

While Cole was greeted with much fanfare following his return, AEW fans have been much cooler with their response to the former Bulgarian Brute. Is that enough on-screen motivation for audiences to invest in a Miro Vs. Adam Cole feud? It'd be a great way to get the former back on television while giving Cole the kind of warm-up program he needs before setting his sites on some of the roster's bigger fish. The likes of MJF and Jon Moxley are occupied at the moment, so Miro could make sense here. There could also be interactions between CJ Perry and Britt Baker, adding another layer to the rivalry. Late last year Miro said that he was ready to go and simply waiting for creative, so a match against Adam Cole at Revolution could work.
3/4

Powerhouse Hobbs

Over the last several weeks, AEW has been effectively building Powerhouse Hobbs' character through a series of vignettes. His message has been simple. He feels that, throughout his life, he's had everything he loves taken from him. As such, Hobbs feels motivated and even vindicated in doing the same thing to others inside the squared circle. Powerhouse is in a unique spot because the reasons he is a heel are identifiable and relatable for the audience. Crowds don't have to like it, but knowing why a villain is doing what they are doing makes them even more powerful.

There's some early buzz circling Hobbs' 2023, and working with Adam Cole might be a great way to set up the year. Hobbs has struggled to push through life for his 31 years, and now Cole wants to pop back up and make AEW all about him again? Not on Powerhouse's watch. That could be the genesis of a high-end midcard feud that would elevate Hobbs and give Cole's new face persona more depth. It's a feud that AEW's fans haven't seen before, either, making it that much better.
2/4

Rush
Another Tony Khan signing that didn't do much in 2022 is Rush. The same can be said about many wrestlers on AEW's roster, but the 34-year-old is too good to be buried in multi-man matches on Rampage or squash matches on Dark. Rush signed a full-time deal with All Elite Wrestling on September 30 but has appeared in just one singles match on Dynamite since. He's also only had one singles bout on Rampage, meaning he's been severely underutilized for the better part of five months. Rush has been wrestling—unlike Miro—but there has been virtually no spotlight on him.
Despite that, he has the chops and pedigree to jump directly into a feud with Adam Cole and make it work. He's a tremendous in-ring worker and a heat-seeking missile with audiences. If the goal is to generate a ton of sympathy for Cole as he tries to shake off his ring rust, Rush is more than capable of generating that. The setup wouldn't need to be anything fancy, either. Have Cole run roughshod over Perro Peligroso or Dralistico—both of whom Rush has been tagging with lately—drawing out the final boss of sorts. The matches would be snug and right at home on Dynamite's midcard. As with Powerhouse and Miro, it'd get Rush in front of more fans while helping Adam gear up for a main event run later in 2023.
1/4

Jay White
This one is cheating a bit because Jay White isn't an active member of AEW's roster. Yet a recent report from Fightful Select indicates that the former IWGP World Heavyweight Champion is interested in joining one of North America's major wrestling promotions. It seems safe to assume that this would be a two-horse race between All Elite Wrestling and WWE. Given the suddenly shaky landscape in Stamford, it'd be tough to blame White for deciding to join Tony Khan's promotion. His deal with New Japan hasn't expired yet, but White is slated for a Loser Leaves Town match against Hikuleo on February 11. Cole would have to kill some time before landing in a feud with Switchblade, but Revolution isn't going down until March 5. That would be more than enough time for AEW to insert Jay White into the mix.
A match between Jay White and Adam Cole could co-main event any pay-per-view this year. Unlike the other three names on this list, there's a built-in story between White and Cole too. White was in the match at Forbidden Door, where Cole picked up his injury. He could kayfabe take credit for putting Cole on the shelf for half a year. That would immediately make White one of AEW's most detestable heels—a commodity the company is short on—while giving Cole a chance at redemption. Given both men's respective ages (Cole is 33, White is 30), this could also become a foundational rivalry for All Elite Wrestling for the next five or six years.
Next: Swerve Strickland & Mogul Affiliates Give AEW The Ruthless Heels It Needs
Source link