Sports news
Cowboys scuffling ahead of wild-card matchup vs. Bucs team that's getting healthy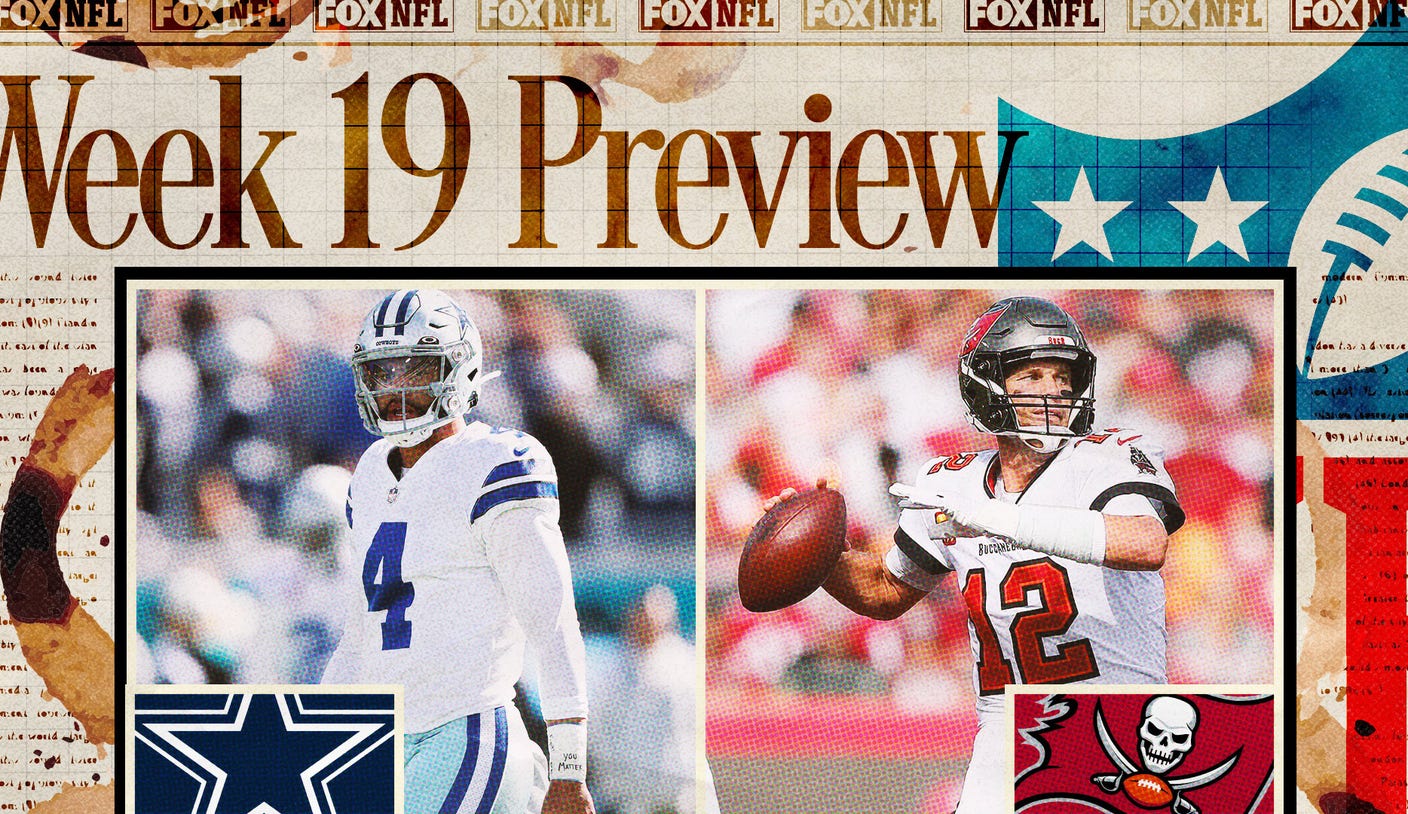 David Helman
Dallas Cowboys Insider
Greg Auman
NFC South Reporter
Aside from the obvious ratings bonanza, it makes perfect sense to save the murkiest matchup of Super Wild Card Weekend for last.
Cowboys-Buccaneers will take center stage Monday night in Tampa, Florida. And while most of the other games in this opening weekend have clear favorites, this one truly feels like anyone's guess.
Maybe that's to be expected with the state of these teams — the Bucs winning the NFL's worst division at 8-9, and the Cowboys limping into the postseason at 12-5 after losing their regular-season finale in embarrassing fashion.
With so much to sort through, it made perfect sense to ask two experts — NFC South reporter Greg Auman and Cowboys reporter David Helman — to weigh in on the matchup.
David Helman: Following the Cowboys for as long as I have, it's easy to sense the panicked vibes coming from a fan base that just watched a 12-5 team go 0-1 in the playoffs last season. But Greg, I'm curious: for a team that has already experienced so much playoff success in such a short span of time, what are the overall vibes around this Buccaneers team and fan base?
Greg Auman: I think there's a general nervousness just because so much of the confidence is built around what the Bucs can be when fully healthy, rather than what they've been for most of this season. They've shown flashes and bursts of being a great team, but really haven't been that for an entire game, and that's probably what it takes to win moving forward. Fans remember what a Tom Brady team can do in the playoffs, but they haven't seen enough of that in the last four months.
I feel like there's almost more pressure on Dallas in this game, as a 12-win team that had the top seed and a first-round bye within reach in recent weeks. Mike McCarthy could be in trouble if it's a first-round exit. Do you think that he helps or hurts the Cowboys on game day?
Jerry Jones expresses confidence in Dak Prescott
Skip Bayless and Shannon Sharpe react to Jerry Jones' comments on his QB ahead of Cowboys-Buccaneers.
Helman: I'd like to think everyone is used to this sort of pressure by now. Jerry Jones made a huge fuss last year when the Cowboys were eliminated; so much so that he and McCarthy both spent the next six months fielding questions about McCarthy's job security. Dak Prescott obviously has a bit more in the way of job security, but these are the types of moments that can make or break your legacy. On one hand, he's taken the Cowboys to the playoffs in four of his six healthy seasons as the starter — but on the other hand, he'd fall to 1-4 in the postseason if he can't get past the Bucs. For a fan base that gets angrier and more impatient for a sixth championship with each passing year, the court of public opinion is going to swing against him at some point. As I said, though, these are the types of stakes that follow the Cowboys all the time, so I don't see why it should be any worse this time around.
As for the actual matchup, I'm curious to hear how you feel about the state of Tampa Bay's offensive line. From an outsider's perspective, it seems like it's been a consistent issue dating all the way back to training camp. Where do things stand, and how well do you expect those guys to hold up against a talented Dallas pass rush?
Auman: The Bucs offensive line remains a question mark, at least at center. Ryan Jensen has been out since July with a knee injury and returned to practice two weeks ago, but it's still a big leap to jump back in as a starter in the playoffs. Robert Hainsey, who has started every game this season in his place, left Sunday's game with a hamstring injury, so he's also uncertain, though Todd Bowles called it just a "sore hamstring" Monday, leaving the door open for him to play. If neither of them can go, they'd turn to left guard Nick Leverett, which creates a vulnerability at left guard. The good news for the Bucs is that the two starting tackles should be able to play, Pro Bowl right tackle Tristan Wirfs for sure and likely left tackle Donovan Smith as well. So beyond the uncertainty at center, they're in a good place, and you just wait to see how patient Brady is before getting rid of the ball.
How much of a concern is the starting corner opposite Trevon Diggs? The Bucs have two — if not three — dangerous receivers, so that's something they could try to exploit on Monday.
Helman: For my money, that's the single biggest issue that could cost the Cowboys this game. Anthony Brown has caught plenty of criticism over the years, but the Dallas secondary just hasn't looked the same since he was lost for the year back on Dec. 4. Defensive coordinator Dan Quinn turned toward a pair of young draft picks, Kelvin Joseph and Nahshon Wright, to fill the void. Wright has been up and down, while Joseph simply hasn't looked ready for prime time. The team claimed veteran Trayvon Mullen a month ago, and his limited playing time has been a mixed bag to this point. 
Considering all of that, it doesn't feel like a coincidence that the Cowboys have allowed 21 passing plays of 20-plus yards in the past month. Diggs is a great player, but he's willing to gamble — which has led to plenty of big plays in the past. Across from him, there simply isn't a trustworthy option. Against an offense with Mike Evans and Chris Godwin, there's only so much the safeties can do to provide help — and that's not even mentioning what Russell Gage and Julio Jones can contribute. There should be big plays available for Brady if his line can protect him.
On a related note, I'm fascinated by the Bucs' story on defense this season. This unit mauled the Cowboys way back in Week 1, and it seems like they're getting healthier. Should we expect these guys to look like they did back in September, or are they more inconsistent than that?
Auman: The biggest thing for the Bucs defense is that they're much more effective against the run when they have both Vita Vea and Akiem Hicks healthy up front. It's 700 pounds of disruption up the middle — they're 6-1 this season when both play at least 10 snaps, and 2-8 when either of them doesn't, a massive difference that was crucial in the clinching win against Carolina. They should be healthy in the secondary — another rarity — in getting corner Carlton Davis and safety Mike Edwards back from lingering injuries — and perhaps Logan Ryan as well. Outside linebacker is still a position with basically two healthy bodies, but they could get Carl Nassib back healthy for depth there. Getting back to full strength could take them to another level, and they'll need that against Dallas and anywhere beyond that.
'Cowboys have their entire season ahead of them'
Kevin Burkhardt and Greg Olsen discuss the Dallas Cowboys' 26-6 loss to the Washington Commanders in the regular season finale.
Helman: Sounds like it just might make for the best matchup of the weekend, so I guess all that's left to do is pick the game. I want to believe in the Cowboys, but they haven't given me a ton of reasons to do so over the last month. Their vaunted ground game hasn't averaged four yards per carry since Dec. 11, and their pass rush has dropped off considerably in that same time span. On top of that, we know all about their struggles with turnovers, as Prescott has thrown an interception in seven straight games. It sounds like a recipe for a first-round exit to me, and I think the Bucs will take advantage to slip through to the second round — something like 23-19.
AUMAN: That sounds about right. Tampa Bay has pretty much always scored less than I've expected this season, but the defense has also stepped up when healthy. It won't be as easy as Week 1 by any means, but I think the Bucs can score enough to pull a home win out and keep their season going. I'll say 27-21, Bucs advance, but they surprise me all the time.
Greg Auman is FOX Sports' NFC South reporter, covering the Buccaneers, Falcons, Panthers and Saints. He is in his 10th season covering the Bucs and the NFL full-time, having spent time at the Tampa Bay Times and The Athletic. You can follow him on Twitter at @gregauman.
David Helman covers the Dallas Cowboys for FOX Sports. He previously spent nine seasons covering the Cowboys for the team's official website. In 2018, he won a regional Emmy for his role in producing "Dak Prescott: A Family Reunion" about the quarterback's time at Mississippi State. Follow him on Twitter at @davidhelman_.
Top stories from FOX Sports:
---
Get more from National Football League Follow your favorites to get information about games, news and more
---
---
Source link