Sports news
Jimmie Johnson, Petty GMS Racing group rebrands to Legacy Motor Club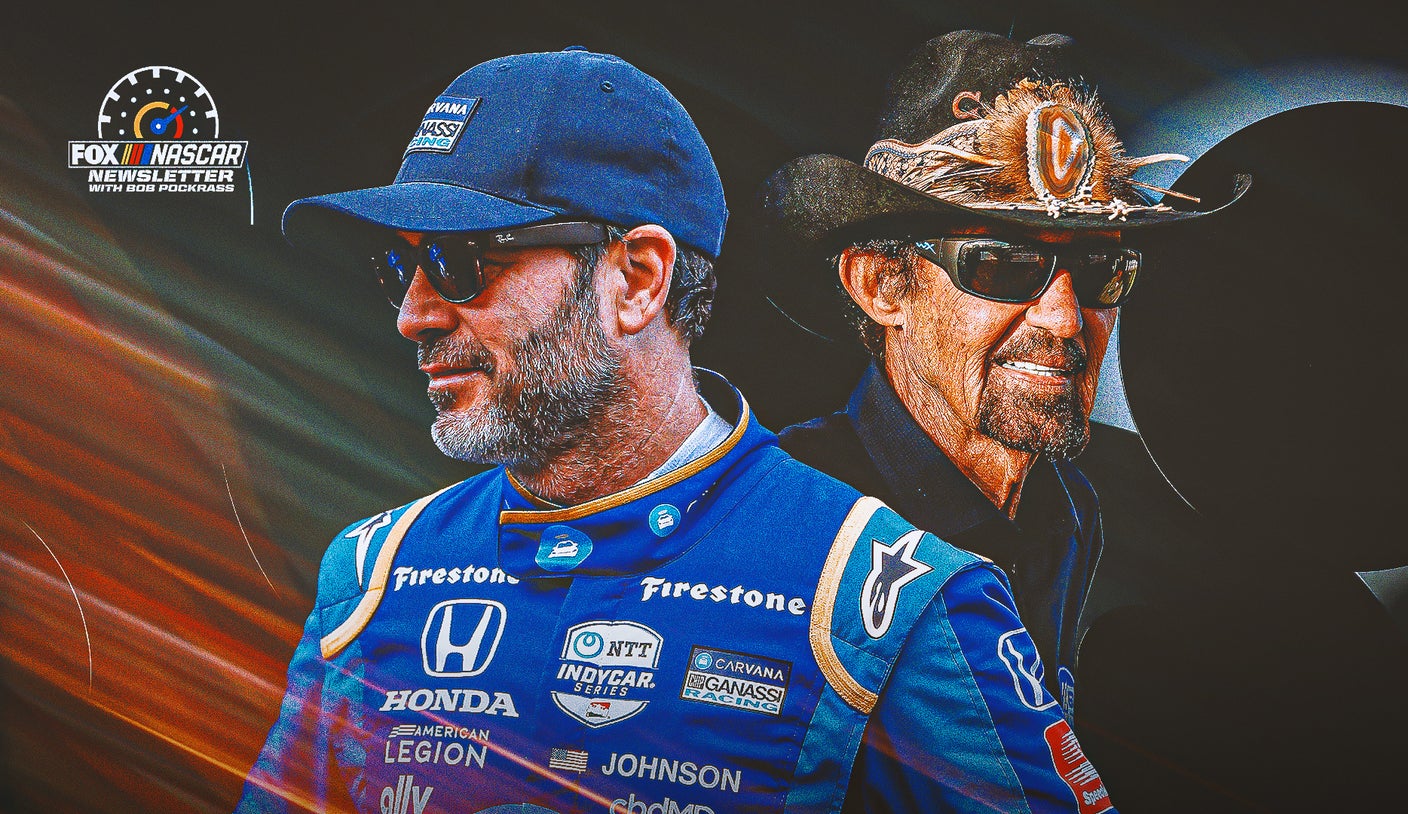 Bob Pockrass
FOX NASCAR Insider
The Petty name, as far as adorning a race team, will be no more in 2023.
That fact alone could be a shock to long-time fans of the sport.
To some, the true Petty identity evaporated long ago when Petty Enterprises, the original Petty team that started in 1949, was absorbed by Gillett Evernham Motorsports prior to the start of the 2009 season and rebranded into Richard Petty Motorsports.
With the team no longer operating out of Level Cross, N.C., it was a sign that times had changed. The name still continued, though, as the Petty family has owned a minority interest in the race team through a few different owners, the latest being Maury Gallagher and the rebranded-in-2022 Petty GMS Racing.
It was never Petty Enterprises. But it was something Petty, a link to the past and something that allowed Richard Petty — "The King" — to continue to have a role and help attract sponsors to race cars. That continued last year with Petty GMS.
Now a year later and with seven-time Cup champion Jimmie Johnson having bought into the organization, a name such as Petty GMS Johnson probably seemed a little wonky. So the organization has opted to rebrand as Legacy Motor Club.
The Petty name is gone, but the iconic No. 43 will still be on the track.
"When they see that 43 car, it's always going to be a Petty car." Richard Petty said in an interview on SiriusXM.
Will that be enough to continue a tie to history? Petty is one of the two most iconic names in the sport thanks to Richard's seven Cup titles and 200 victories in addition to the racing accomplishments of several other members of his family.
Petty explained that the hope is that fans of the team will root for not just Erik Jones, driver of the No. 43 car but also Noah Gragson, who drives the No. 42, and Johnson, who will drive select races in the No. 84 (a reverse of the number 48 that he drove to all those titles) in a return to the series where he is one of the most accomplished racers.
"What we're trying to do here is get the spectators to pull for a team, not particularly a certain car, or certain driver — we want them all to pull for our legacy team," Petty said. "And so we said, 'OK, well, we'll try something a little bit different here.'"
Petty seemed content that 75 years was enough with the Petty name adorning a team logo.
Richard Petty's last race was in 1992. His last win came in 1984. That means no fan under 40 has a memory of watching him win a race (other than through a highlight). As the struggles to find funding have shown, just having the Petty name doesn't mean that sponsorship will flow.
The hope is that the name incorporates what Petty and Johnson can do when working together.
"After brainstorming about the new name of our team, Maury and I recognized the opportunity to do something special and different," Johnson said. "We felt it was important to have a name that honored the past and acknowledged the future.
"The term Motor Club is a nod to car clubs of the past. Legacy M.C. will be an inclusive club for the automobile racing enthusiast."
Gallagher, the executive chairman and founder of Allegiant Airlines, remains the majority owner of the team. He had said when Johnson's investment into the team was announced in November that they would consider a name change. They spent the last couple of months formalizing the name.
"With the addition of Jimmie in an ownership role, we knew change was inevitable with his experience and knowledge," Gallagher said. "Our goal is to win races, win championships and to represent our partners by performing at the highest level.
"The new image of Legacy M.C. is something that will allow us to stand out and foster a team environment that breeds success."
Jimmie Johnson on talks about joining Petty GMS Racing
Jimmie Johnson describes how talks began with him and Petty GMS Racing and discusses the factors that will determine the select races he will enter.
Looking for more NASCAR content? Sign up for the FOX Sports NASCAR Newsletter with Bob Pockrass!
A team name doesn't create success. But it can be pivotal for a team's identity. Time will tell on the legacy of the change of the name to Legacy Motor Club.
For now, Petty will still be at the races. He will smile and walk around with a cowboy hat and sign autographs. He's 85 and his presence still commands a crowd.
"When I see the No. 42 and 43 cars, no matter who the driver was, is currently, or could be in the future, I want our fans to remember the Petty history that comes with them," Petty said.
Thinking Out Loud
Stewart-Haas Racing bringing Chad Johnston back to the organization to crew chief Ryan Preece seems like a perfect fit.
Johnston had worked at the organization as a crew chief for Tony Stewart. In addition to Stewart, he has worked with some of the top drivers in the sport as crew chief for Martin Truex Jr. and Kyle Larson.
In addition to his significant experience at the Cup level, Johnston has won a couple of truck races with Preece at David Gilliland Racing.
Preece doesn't have time for transition or a learning curve in joining the SHR Cup program. He needs to perform right away. Pairing him with someone he has had success with and someone who has previously worked with the organization puts Preece in the best position possible.
Social Spotlight
 They Said It
"Ever since childhood, it's been my dream to pursue racing in NASCAR." — Actor Frankie Muniz on running NASCAR's ARCA Series full time in 2023.
Bob Pockrass covers NASCAR for FOX Sports. He has spent decades covering motorsports, including the past 30 Daytona 500s, with stints at ESPN, Sporting News, NASCAR Scene magazine and The (Daytona Beach) News-Journal. Follow him on Twitter @bobpockrass, and sign up for the FOX Sports NASCAR Newsletter with Bob Pockrass.
Top stories from FOX Sports:
FOLLOW
Follow your favorites to personalize your FOX Sports experience
---
Get more from NASCAR Cup Series Follow your favorites to get information about games, news and more
---
---
Source link