Sports news
A season of ups and downs for Kansas, Duke, Kentucky and other blue bloods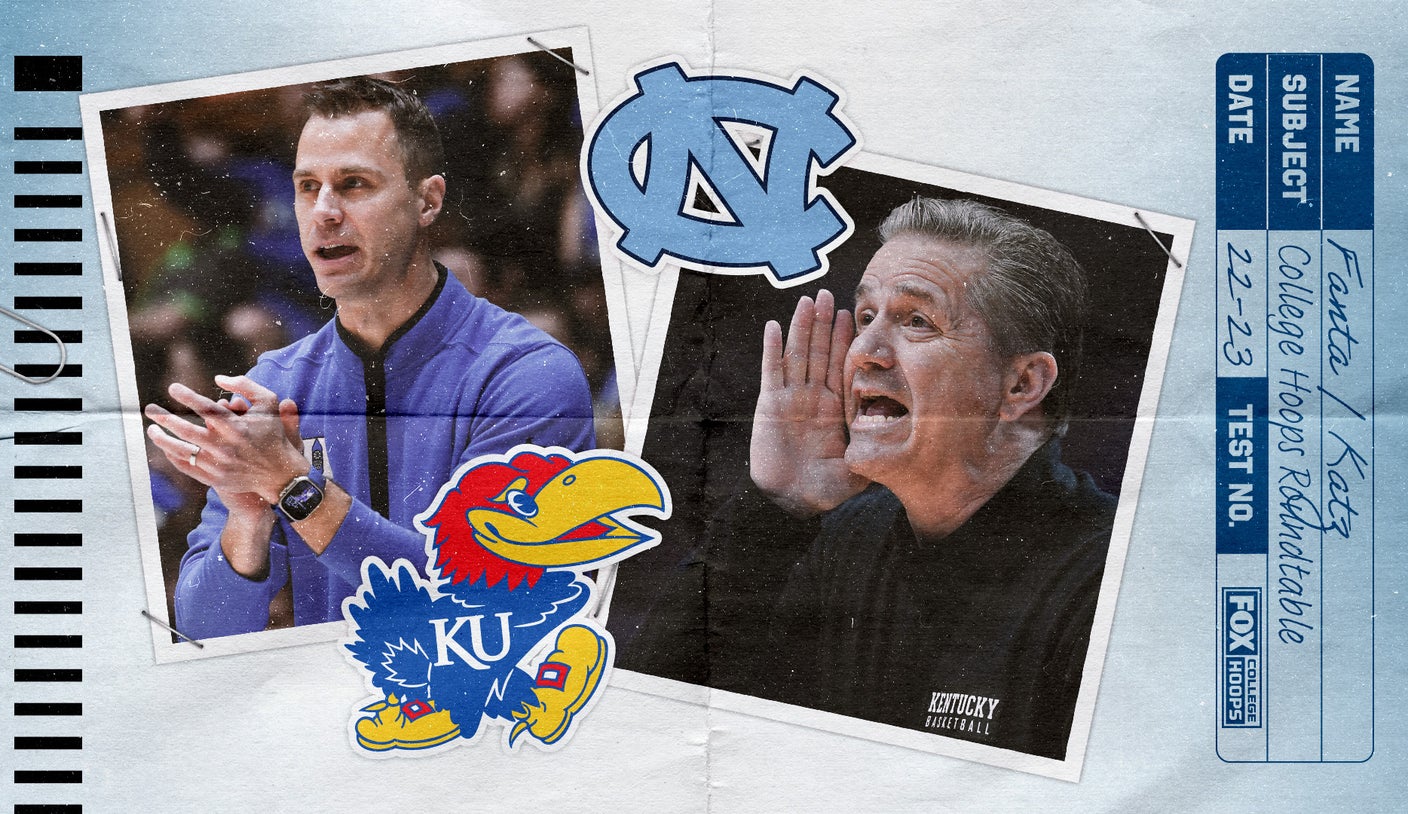 Andy Katz
College Basketball Analyst & Writer
John Fanta
College Basketball Broadcaster and Reporter
It's been a rollercoaster season for many of college basketball's traditional blue-blood programs.
Defending champion Kansas finds itself in the middle of a three-game losing streak. Kentucky has struggled for much of the season before recently hitting its stride. North Carolina, which advanced all the way to the national championship game last season, isn't even ranked in the latest AP Top 25 Poll. Neither is the Tar Heels' rival Duke, which has dealt with a series of injuries under first-year head coach Jon Scheyer.
What should fans make of it all?
Andy Katz and John Fanta are here to help, breaking it down and taking a look at the future prospects of several traditional powers.
Defending champion Kansas has hit a bump of late, losing three straight heading into Saturday's game at Kentucky. What do you think of the Jayhawks' chances of getting on a roll?
Andy Katz: Let's put Kansas' three-game losing streak into context. The first loss was by one in overtime at rocking Bramlage Coliseum at Kansas State. Jalen Wilson had 38 in that loss. The 23-point margin of defeat to TCU at home was startling. Losing at Baylor was not. Dropping three in a row in the Big 12 — the deepest and strongest league in the country — is not cause for alarm. The only thing lost right now for Kansas is a No. 1 seed and perhaps a spot in the Kansas City regional. I'm not sweating this mini-slide.
John Fanta: I'm never going to bet against a coach as good as Bill Self, and the Jayhawks will regain their winning ways after this dry spell. Part of this is life in the best conference in college basketball, the Big 12.
That being said, there's cause for concern with Kansas in the grand scheme of things come March. Why? The lack of firepower in the frontcourt is starting to catch up with the Jayhawks, as KJ Adams was a non-factor in the losses to Baylor and TCU. As good a point guard as Dajuan Harris can be when it comes to distributing, he has combined for just five points in his last four games. Wilson is one of the best players in the country, and the importance of freshman Gradey Dick to this team can't be overstated. That's also a lot to put on a young player, and off-games can happen — as it did for Dick against TCU (3-for-13 FG). Self has proven time and again that he can flip a switch, but from a personnel standpoint, this team doesn't particularly have a great sixth man, and they are undersized. I'm not sure Kansas goes on a deep March run this time around.
Trouble at the Top of the AP Top 25
Mark Titus and Tate Frazier react to the top two teams in the country — Houston and Kansas — being upset over the weekend.
Can North Carolina flip the switch like the Tar Heels did last season?
Fanta: The Tar Heels have won nine of their last 11 games and experience wins in March, so the answer from me is an emphatic YES. That comes with a big "if" though — Caleb Love and RJ Davis need to be in a rhythm, and the Tar Heels can't stray away from All-American talent in Armando Bacot.
Do I actually think UNC makes another run to the Final Four? I don't see it, because while Pete Nance has been an addition, he hasn't provided Carolina with anything quite like what Brady Manek supplied a year ago. Right now, this team would be around a six or seven seed, so it's in better shape than it was at this time last year. That said, timing is everything in the NCAA Tournament, and UNC were fortunate to catch a Baylor team dealing with injuries in the second round last season. I like the way North Carolina has been playing, but I don't think lightning strikes twice.
Katz: Yes. The Tar Heels have already done so. They are getting healthy and are looking for Bacot to lead them again. The guard play is as good as any team in the country. They do tend to have defensive lapses that need to be tightened. Carolina is going to be seeded to its record and not its talent. And that will spell trouble for opposing teams and higher seeds in the NCAA Tournament.
What should qualify as a successful season for Duke in Jon Scheyer's first season?
Katz: The Blue Devils will be judged by March, not the regular season. This is not an excuse, but I'm not sure how many practices and games the Blue Devils have had their full complement of players. Dariq Whitehead got hurt Monday night at Virginia Tech. So again, they couldn't finish a game with their expected roster. Not having Jeremy Roach for three games also hurt significantly. Duke has the talent to get to the second weekend. The problem is the Devils aren't going to have one easy game. The seed will mean they are going to have a high-level game in the first round.
Fanta: At this point, if the Blue Devils find a way to the Sweet 16, that would be a successful season. When you rely on freshmen to the degree Scheyer relies on them, you're going to take some hits in conference play. Monday's loss at Virginia Tech, which was previously 1-7 in ACC play, put the Blue Devils at 1-4 in road games this season. Roach's toe injury has affected this team, and Whitehead went down Monday night with an injury that could be cause for concern. 
The bright spot? Kyle Filipowski has been tremendous, with at least 28 points in two of his last four games, and six consecutive double-digit scoring performances. Mark Mitchell has been solid as well, while Ryan Young has been a quality transfer addition. That being said, the guard play is inconsistent and there's a lot of pressure on Roach to perform on the big stage. I still think this Duke team could get something clicking because the defense is solid, but the lack of perimeter firepower and Whitehead's injury are cause for major concern.
 What's the biggest reason for Kentucky's struggles this season?
Fanta: I'll turn this around and be contrarian. What's led Kentucky to three consecutive wins? It actually began when starting point guard and SEC assists leader Sahvir Wheeler went down with a shoulder injury. John Calipari was forced to change things up and found a longer, more difficult lineup to guard with Cason Wallace, CJ Fredrick and Antonio Reeves joining Jacob Toppin and Oscar Tshiebwe. After playing just 28 combined possessions as a group over the first 16 games of the season, that five has combined for 72 possessions over the last three games. Kentucky has outscored their last three opponents — Tennessee, Georgia and Texas A&M — by a combined 72 points. The Wildcats are back on the right side of the bubble, and with Tshiebwe charging the rebounding efforts, this team could go on a March run if perimeter shots fall more consistently. We can assure one thing: No coach in the NCAA Tournament will enter his first-round game with more pressure than Calipari.
Katz: The pieces didn't seem like they fit early in the season, and that's a product of having so many newcomers. Not having a healthy Tshiebwe to start the season got them off to a rough start. But Kentucky seems to have figured it out, and the South Carolina loss may have been the bottoming out. Winning at Tennessee has reinvigorated this squad. They won't catch Alabama or Tennessee or likely even Auburn, but finishing fourth in the SEC isn't out of the question. 
Kentucky upsets Tennessee
Entering the day with zero Quad-1 wins, Kentucky went to Knoxville and upset No. 5 Tennessee, 63-56.
What do you think of this UCLA team? Are the Bruins capable of adding a 12th championship?
Katz: Yes. The Bruins' defense has been phenomenal this season. Jaylen Clark can defend with anyone and Tyger Campbell and Jaime Jaquez Jr. can get to the hoop at will. The loss at Arizona — a game in the 50s — was a defensive struggle against a desperate Wildcat team — so UCLA had controlled the tempo against the high-octane Wildcats. UCLA will enter the tournament as one of the favorites to win in Houston.
Fanta: Yes. Yes. Yes. After Alabama, UCLA would be my pick to win it all if the NCAA Tournament started today. I love the Bruins' makeup, and Mick Cronin has brought the cold toughness of his best Cincinnati teams into the sunshine of Westwood. UCLA has an elite point guard in Campbell to steer the ship and an All-American-caliber player who has so many winning tendencies in Jaquez. But beyond that duo, we've seen Clark and David Singleton double their scoring production this season. If five-star freshman Adem Bona can hang in down low, this team could cut down the nets in Houston. 
Andy Katz is a longtime college basketball writer, analyst and host. He can be seen on the Big Ten Network, as well as March Madness and NCAA.com, and he hosts the podcast "March Madness 365." Katz worked at ESPN for nearly two decades and, prior to that, in newspapers for nine years.
John Fanta is a national college basketball broadcaster and writer for FOX Sports. He covers the sport in a variety of capacities, from calling games on FS1 to serving as lead host on the BIG EAST Digital Network to providing commentary on The Field of 68 Media Network. Follow him on Twitter @John_Fanta.
Read more:
Top stories from FOX Sports:
---
Get more from College Basketball Follow your favorites to get information about games, news and more
---
---
Source link