Movies news
Sami Zayn Wins & 5 More Shocking WWE Royal Rumble Predictions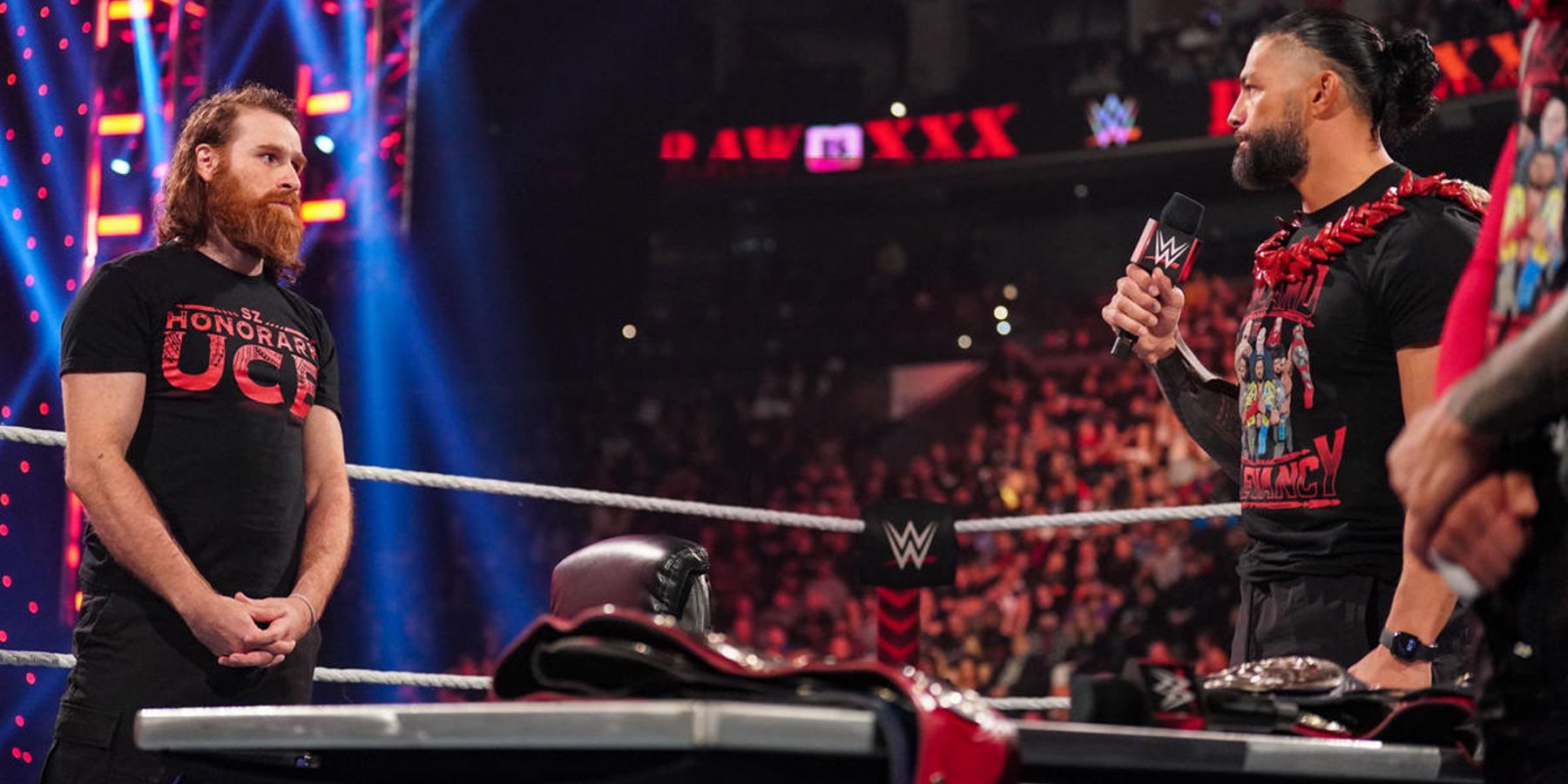 The Royal Rumble is set to take place this weekend, which means that WWE is about to enter WrestleMania season. While the product was feeling pretty stale at this point a year ago, the same can't be said in 2023. Triple H has breathed new life into the company's creative direction, building up secondary titles and new stars since taking over in July. This year is the first time The Game has been responsible for a build toward the Showcase of the Immortals. Fans can safely assume he'll be breaking out all the stops needed to ensure that this year's Royal Rumble is the best in recent memory.
For an idea of just how confident WWE is in this card, consider this: instead of letting Cody Rhodes' long-awaited return be a surprise, he announced his entry during a vignette last week. Based on reports, this was done because there are so many twists coming that the company is confident that revealing Cody Rhodes ahead of time won't cost the Royal Rumble any steam. Imagine if the year was 2008, and WWE announced that John Cena was able to return from his injury ahead of schedule to enter the Rumble. That's the kind of response Rhodes could have gotten as a surprise, but Triple H forwent that, confident in the other shocks he has in store. In no particular order, here are six predictions for the Royal Rumble premium live event.
Related: Following The Trial Of Sami Zayn, The Bloodline's Battle Lines Are Clear
Pat McAfee Returns To The Ring & Does Some Damage
WWE is trying to make the road to WrestleMania 39 feel like a party. It'll want as many crossover stars as possible working the Show of Shows, which means Pat McAfee will likely be involved somehow. Getting him back at the announce desk on SmackDown would be the real treat—we miss you, Pat!—but watching him enter the Royal Rumble to throw out a couple high spots would be the next best thing. McAfee might set up a mini-feud that could play out in the coming months. Unless he circles back to Baron Corbin, fans could be treated to a totally fresh beef involving The Athletic's Sports Media Person of the Year for 2022.
Matt Cardona Brings His New Persona To The Royal Rumble
Matt Cardona has spoken openly about how he doesn't want to have to ask permission to go on podcasts or work for specific promotions. There's something to that, too, as the wrestler formerly known as Zach Ryder has reinvented himself on the independent circuit. So much so that rumors have been swirling about WWE wanting to bring Cardona back into the fold. With Chelsea Green reportedly set to pop back up for the company any day now, her husband might not be too far along. Their debuting at the Royal Rumble isn't entirely out of the question, either. Cody Rhodes has proven that what happens outside WWE matters, and Cardona would likely receive a massive pop if he entered the titular match. Surprises like that would make the early American Nightmare reveal make a lot more sense.
Beth Phoenix Costs Rhea Ripley Her Title Shot At WrestleMania 39
Rhea Ripley is the odds-on favorite in Vegas to win the women's Royal Rumble by a decent margin. Most prediction columns and podcasts have her listed as the most likely winner of the match, and it's not too difficult to see why. She's been a central character on Raw since joining Judgment Day and is WWE's next big women's star in the making. Yet the character has yet to face ramifications for the brutality she's expressed on the red brand over the last half a year. Some comeuppance could come in the form of Beth Phoenix, who might enter the Royal Rumble late and cost Ripley her shot at WrestleMania glory. Rhea should go over in this feud, long term, but a match against the Glamazon in Los Angeles would be a stellar father in her cap. Remember, Ripley is only 26 and has plenty of time to main event WWE's biggest shows of the year. Phoenix getting payback for what happened at Extreme Rules makes sense here.
Logan Paul Returns & Interacts With Pat McAfee or Bad Bunny
Over the last few years, WWE fans have seen a handful of crossover stars enter the squared circle and crush it. Bad Bunny, Pat McAfee, and Logan Paul were all involved in moments that made fans chant "holy s***" in response. WWE hasn't shied away from putting any of these men in high-pressure situations, and all three have delivered in massive ways. With that in mind, the company could create a social-media-breaking highlight-reel instance by having some combination of the three interact at the Royal Rumble. Who can forget Bad Bunny standing toe-to-toe with Brock Lesnar or Logan Paul's first-person frog splash onto Roman Reigns at Crown Jewel? No one, and that's the kind of magic Triple H might try to create at some point during the over-the-top-rope battle royal.
Becky Lynch Gets Heelish While Punching Her Ticket To WrestleMania 39
If Rhea Ripley isn't going to win the women's Royal Rumble, then the odds favor Becky Lynch. WWE will want the most prominent names possible on the marquee for WrestleMania 39, and the reality is that The Man is one of their top stars. The catch is that Bianca Belair and Charlotte Flair—Raw's Women's Champion and SmackDown's, respectively—are working as baby faces right now. It's tough to imagine either Belair or Flair losing their titles between now and April, which means Lynch might need to show a bit of her dark side before getting in the ring with one of those two. It'd be easy to turn Charlotte Flair heel, but she's been receiving tremendous reactions as a face. A match where both Charlotte and Becky have shown they're willing to cut corners to win would be fascinating. It also might be too soon for WWE to revisit Belair Vs. Flair after the story they told up through SummerSlam. Lynch shouldn't go full-blown heel in the Royal Rumble, but she should prove that she's not afraid to go there to achieve her goals, introducing some more nuance to her character.
Sami Zayn Wins The Royal Rumble With Help From The Usos
The Trial of Sami Zayn was sports entertainment at its finest and will be remembered as one of the best Raw segments in history. During the Raw is 30 show, The Usos went to bat for Sami Zayn, pushing back against Roman Reigns and Paul Heyman, who was ready to kick the Honorary Uce out of The Bloodline. Picking Zayn to win the Royal Rumble isn't particularly bold. Having both Jimmy and Jey Uso be the ones who help him clean house before ducking out themselves would be a fantastic swerve, though. Especially if, in the coming weeks, Sami refused to challenge Reigns to a championship match at WrestleMania 39 as a way to prove his loyalty. The Usos could also say they were trying to keep the WrestleMania challenge power in-house, adding to the feeling that the walls are closing in on the Tribal Chief. Roman would have to keep his temper in check, lest he elicit a showdown with the most over wrestler in WWE heading into the Royal Rumble, Sami Zayn. It'd introduce yet another wrinkle into this saga and force fans to watch as the storyline played out every Monday and Friday.
Next: Is Cody Rhodes Winning The Royal Rumble Too Predictable For WWE?
Source link