Movies news
Why AEW Fans Should Give Mogul Affiliates A Chance Despite Rocky Debut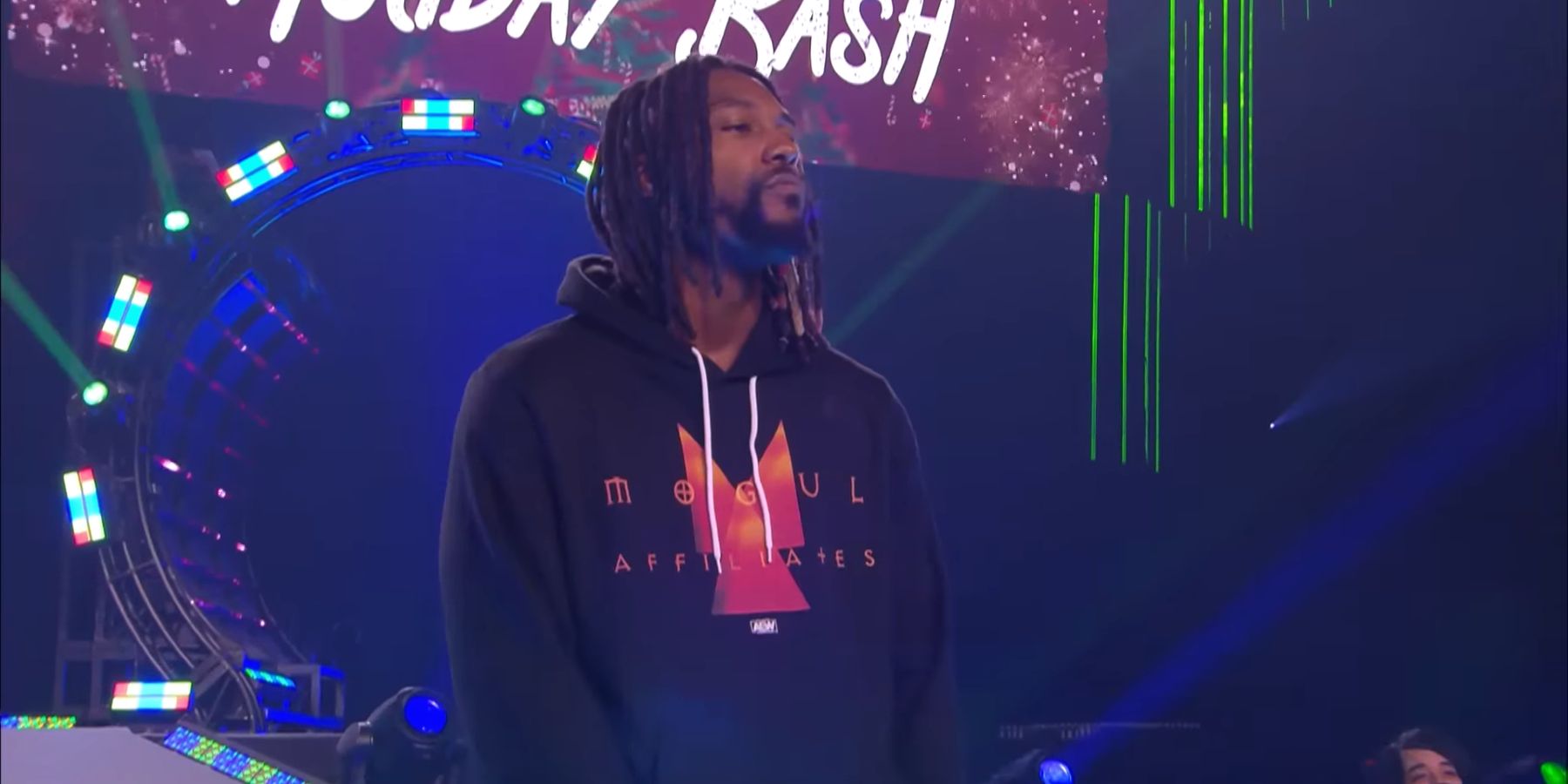 Even the most adamant All Elite Wrestling fans have to admit that the debut of Swerve Strickland's new faction, Mogul Affiliates, wasn't overly promising. The pieces were in place for the company to have a highlight-reel-worthy premiere, but they didn't come together during the segment. There was a recognizable pop culture figure in Rick Ross. The debut of a wrestler no one had seen before, and 24-year-old Parker Boudreaux actually impacting Dynamite. Put Strickland at the head of it all, and the Mogul Affiliates should have had a memorable coming-out party. While AEW fans will likely remember this night for a long time, it'll be for all the wrong reasons.
It felt like Tony Khan paid Rick Ross by the catchphrase because the Grammy-nominated rap artist repeatedly said the same few things into the microphone as the Mogul Affiliates assaulted Keith Lee. It only added awkwardness to the segment, and vocal fans took to social media to beg AEW not to have him back anytime soon. The company was likely looking for a different response by rolling out a name like Rick Ross. It's also clear that Boudreaux still needs to find his in-ring persona. He's imposing, standing 6-foot-4, and is billed at 300 pounds, but something has always been off about his presentation.
Then there's the giant tattooed mystery man who joined Boudreaux and Strickland, Granden Goetzman. It was his first appearance on AEW television, and by the time he appeared, the segment was toast. The cinder block spot was gnarly, and Ross dropping an f-bomb on live TV was comical, but things didn't get off to a great start for the Mogul Affiliates. Despite that, AEW fans need to be patient as this new group finds its footing.
Related: AEW Must Capture Action Andretti Lightning In A Bottle
Bet Against Swerve Strickland At Your Own Peril
To get a feel for how impactful Swerve Strickland is as a faction leader, AEW fans should turn their gaze to WWE for a moment. His old group, Hit Row, was brought back in by Triple H to work on SmackDown over the summer. Hit Row clicked when Strickland was fronting it. Now that Top Dolla, Ashante Adonis, and B-Fab are without Swerve, the act is falling flat. With all due respect to Top Dolla and Adonis, they don't have the same presence without Strickland. Hit Row's return has been a whiff for Triple H, and that's because the group is missing its linchpin. Strickland's charisma helped propel Hit Row on NXT, and there's no reason to believe he can't carry a lot of water for the Mogul Affiliates too.
There have been several high-end debuts in AEW this year, but no one has seized the opportunity as Strickland has. He overshadowed Keith Lee while working together as Swerve In Our Glory. When that tag team started, Lee was arguably the more prominent name of the two. There was even a feeling that Keith would be held back by Swerve, but Strickland quickly began to steal the spotlight with his heelish antics. While Lee seemed stuck in neutral, Swerve was doing precisely that: swerving the audience and subverting expectations almost every time the duo wrestled. Strickland has the ability to elevate surrounding talent. He did it with Hit Row and swiped the spotlight away from Keith Lee. He deserves some leash with the Mogul Affiliates despite their cringe-inducing debut.
Mogul Affiliates Have A High Athletic Ceiling With Goetzman & Boudreaux
Fans have yet to see Goetzman wrestle, but he has an athletic background that WWE tends to covet. Perhaps Tony Khan took a page out of his competitor's playbook, bringing in the former minor league baseball player, hoping that his natural physical gifts translate in the ring. Reports indicate the 30-year-old has been training at Jay Lethal's wrestling school and that his debut has been planned for the last several weeks. Goetzman certainly has a unique look, not only in AEW but across the professional wrestling landscape. There's a reason that he generated more buzz than anyone else involved in this segment. It was a rare "who is THAT guy!?" moment for modern wrestling fans, who are very well-informed and plugged in.
Boudreaux washed out of WWE's developmental system, but that program is notoriously tough on green talent. New recruits generally have less than half a year to prove that they have a natural pro wrestling bend. If it isn't there, they get released. That's what happened with Boudreaux, but that doesn't mean he has no potential, either. WWE fans will remember him making headlines because of his passing resemblance to Brock Lesnar, but he is a former college football player with good size. AEW isn't swimming in big men who know how to work, and the physical ceiling on both Goetzman and Boudreaux seems high. Strickland can obviously go in the ring, which nicely rounds out this largely unknown quantity of a faction.
If Goetzman and Boudreaux can back their looks up with in-ring work, Strickland will have access to two unproven but physically gifted big men. That gives Keith Lee two massive henchmen to go through before getting to Strickland, so in the short term, this stable makes sense. The Mogul Affiliates probably didn't have the immediate impact that AEW was hoping for, but that doesn't mean the faction is cooked on night one. The pieces are in place for this group to evolve into mainstays on Dynamite and Rampage, where it's been a Blackpool Combat Club vs. JAS rerun for the last six months. AEW needs more steady stables. With some time and better segments, The Mogul Affiliates could eventually find themselves in that mix.
Next: With The Bloodline, WWE Is Repeating A Brutal NWO-In-WCW Mistake
Source link