Sports news
Front office expressly told to not trade team's picks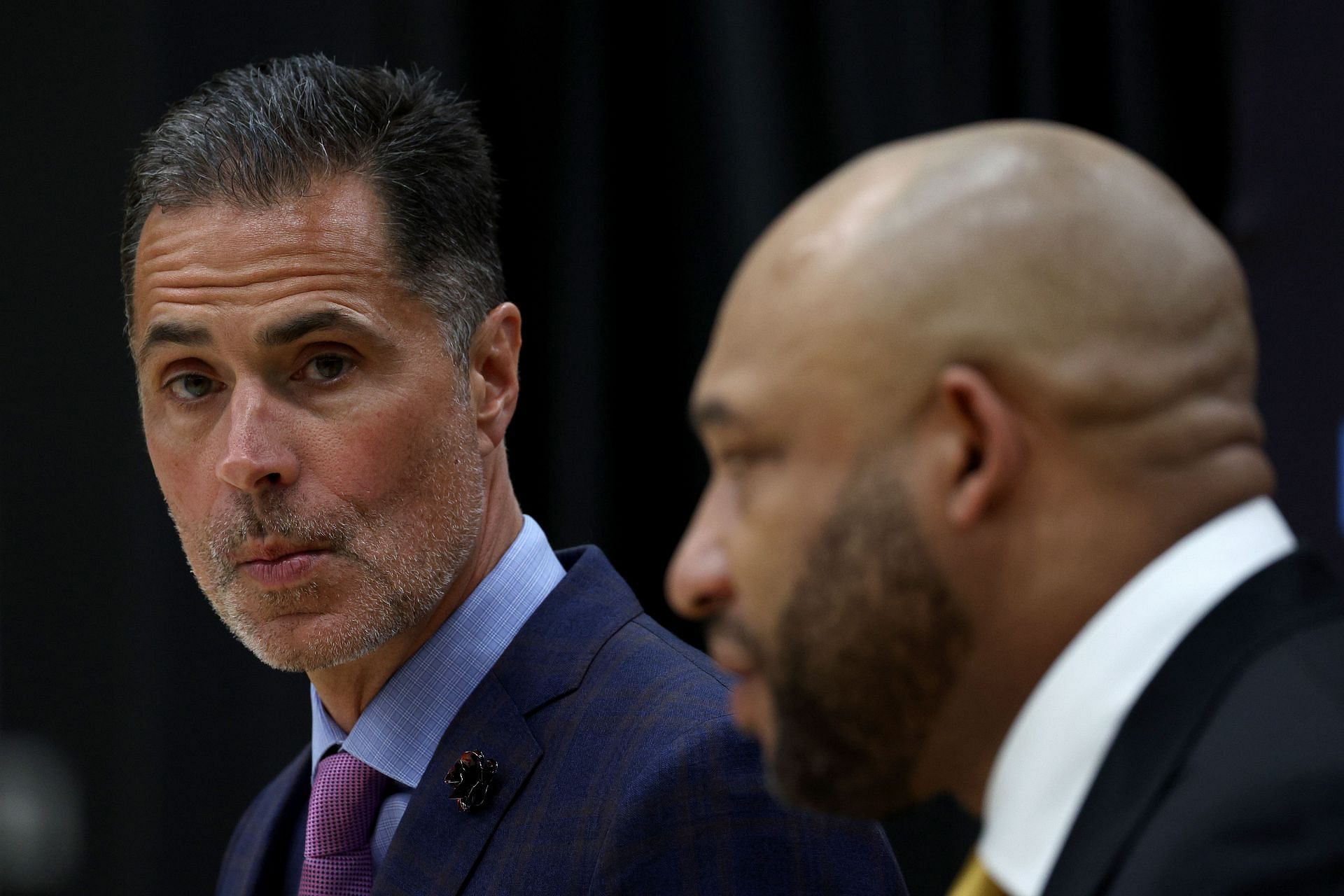 The NBA trade season is upon us, and everyone is waiting to see what the LA Lakers are going to do. If they want any shot at upgrading their roster, it will likely mean parting with their 2027 and 2029 first-round picks.
For months, these picks have been a major topic of discussion. The Lakers have been connected to multiple players, but remain reluctant to part with their draft capital. This continues to be the biggest roadblock in getting any form of deal done.
During a recent episode of "The Crossover" podcast, NBA insider Howard Beck touched on the Lakers and their picks. He said that the front office has been told they are not allowed to use them in a trade.
"And I've heard rumblings – and they're only rumblings, so I don't want people to go too far with this or go crazy with the aggregation – but a couple people around the league have told me in recent weeks that they believe that the front office has essentially been told not to trade the picks, that they're guarding those," Beck said.
Currently, the LA Lakers (16-21) sit in 13th place in the Western Conference. It's also worth pointing out that Anthony Davis is still sidelined indefinitely with a foot injury.
Should the LA Lakers move their draft picks in a trade this year?
Given the team's current outlook, it's no surprise the LA Lakers want to hold on to the picks. Even with LeBron James playing at a high level, their chances of contending are slim. Anthony Davis had a brief MVP-level stretch, but it ended in injury. With the Western Conference being loaded this season, the Lakers need multiple additions to truly get back in the mix.
Punting off a major move until another season isn't great, but the Lakers don't have much of a choice. One of their top players continues to get injured, and the supporting cast is questionable at best. It makes little sense for LA to give away draft capital only to move into the play-in tournament.
At this point, the Lakers are much better off just waiting for the offseason to make upgrades. With Russell Westbrook's contract coming to an end, they will have an abundance of cap space at their disposal. This should allow them to improve the talent around their All-Star duo.
A lot can happen between now and the trade deadline, but it appears no major move is in play for the Lakers.
Edited by Kevin McCormick
var fbPixelFired = false;
document.addEventListener("scroll", function() { loadFBPixel() });
document.addEventListener("mousemove", function() { loadFBPixel() });
function loadFBPixel() {
if(fbPixelFired) {
return;
}
fbPixelFired = true;
!function(f,b,e,v,n,t,s){if(f.fbq)return;n=f.fbq=function(){n.callMethod?
n.callMethod.apply(n,arguments):n.queue.push(arguments)};if(!f._fbq)f._fbq=n;
n.push=n;n.loaded=!0;n.version='2.0′;n.queue=[];t=b.createElement(e);t.async=!0;
t.src=v;s=b.getElementsByTagName(e)[0];s.parentNode.insertBefore(t,s)}(window,
document,'script','
fbq('init', '952063904834769');
fbq('track', "PageView");
fbq('track', 'ViewContent');
}
Source link