Sports news
Why Chelsea's midfield is pivotal ahead of monumental clash with Arsenal | Football News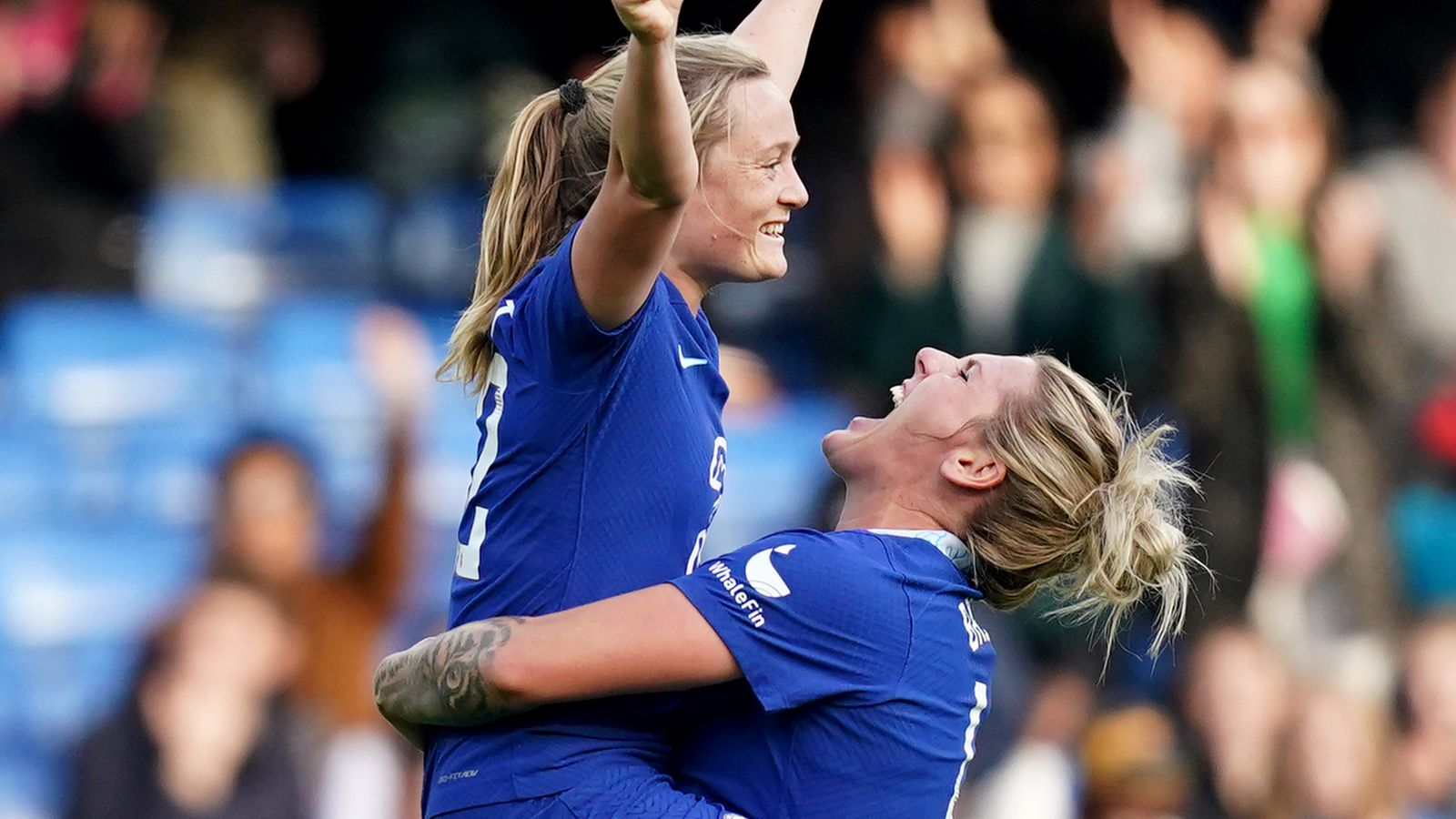 Chelsea's midfield has become the new focal point for Emma Hayes this season as the Women's Super League prepares for its return after a winter break.
Hayes' side resume three points clear at the summit with a top-of-the-table clash against Arsenal live on Sky on Sunday with ambitions of retaining their crown and winning a first European title.
Where in previous seasons, Chelsea have been able to identify and resolve problems within their solid defence and free-flowing attack, the issues lingering within the midfield haven't always been easy to mitigate. Ahead of this weekend's clash with rivals Arsenal, it could be a pivotal area of play.
The last two years have given the side very little time to process how they might do so, with a humbling 4-0 loss to Barcelona in the Champions League final two years ago, and a nervy finish to the WSL campaign last year, where they pipped Arsenal to the league title on the final day of the season.
In that time, Jonas Eidevall's Arsenal side have recovered by searching for more forwards to dismantle the reigning champions, especially with key attackers Beth Mead and Vivianne Miedema out with long-term ACL injuries.
Hayes, however, has had several opportunities to bolster her midfield, to varying degrees of success.
The first was the introduction of Melanie Leupolz in March 2020. A former stalwart of Bayern Munich's midfield, Leupolz slotted in with ease, and was an integral part of Chelsea's WSL-winning campaign, scoring nine goals in 34 appearances.
She also started 24 of the 26 matches in both the WSL and Champions League in 2020/21, leading the Blues in total tackles in the WSL while acting as one of Chelsea's most creative passers and holding midfielders.
It wasn't until earlier this season in October when she announced her pregnancy, and subsequent spell away from football, that things became complicated.
The latest news, however, will please Chelsea fans. Indeed, Leupolz has signed a new deal to remain with the club until 2026, and is set to return to practice as her maternity period comes to an end.
While she was away, Hayes tried different player combinations to plug that gap. It began with So-yun Ji adopting a more conservative position alongside Jessie Fleming or Fran Kirby taking up the shadow-striker role. When Ji returned to her homeland after eight years with the Blues, Hayes swapped the Korean international for Erin Cuthbert and Guro Reiten. Though these pairings were able to do the job, so to speak, none were able to replicate Leupolz' efforts.
The season finished with a third successive title for Chelsea, but just as after the last three campaigns, plenty of questions surrounded the team. Who or what would provide the finishing touches to the team to replicate that league success in Europe?
Hayes admitted that there was a 'profile' she was looking for to achieve that over the summer, and it was clear that the litany of, so far, unsolvable midfield problems, were top of the list.
In came Eve Perisset, Kadeisha Buchanan, Lucy Watson, Katerina Svitkova, Johanna Rytting Kaneryd and Jelena Cankovic. Cankovic seemed the ideal short-term replacement for Leupolz, while Svitkova's ability to play both centrally and on the right wing boded well. The one thing they were missing and failed to acquire, was a number eight.
Chelsea had initially attempted to right that wrong by making a world-record bid of over £425,000 for France midfielder Grace Geyoro, after her impressive Euro 2020 campaign where she scored six goals in 14 appearances. And it seemed that the PSG star was also keen for a move to London.
She spoke with the French newspaper L'Equipe: "I had a few meetings with the management, I explained to them the why and how of my desire to leave. Today, I have one foot in Paris and one foot in Chelsea. I've been at Paris Saint-Germain for ten years now, I've experienced a lot of things, and now I have an opportunity."
But despite the interest from both parties, PSG put their foot down, adamant on keeping Geyoro around to fuel their European and domestic ambitions, and that meant that Chelsea entered the 2022/23 season with no recognisable number eight.
Should they have had backup options? Kiera Walsh and Amandine Henry were the names doing the rounds, but Manchester City realistically would never have sold the former to a rival club, and the latter was convinced to remain within the confines of Feminine Division 1 with Lyon.
It was a tactical error that would rear its ugly head in the very first game of the season with an unforeseen 2-1 defeat to newly-promoted Liverpool. The Reds' Katie Stengel fired home two penalties and had the run of the mill in the centre of the park.
Just like that, the Blues had found themselves in the same place they were last season: behind rivals Arsenal after just one game.
Hayes had to make a move, but as she recovered from an emergency hysterectomy, she could only watch from the sidelines. The tactical tweak she called for general manager Paul Green to make was a stroke of genius, but actually it had been a premeditated one.
Enter stage-right: Cuthbert.
The Scottish international had missed Euro 2020, her country had failed to qualify. In the time it took for her English teammates to win the tournament, Cuthbert was undergoing one-on-one training, becoming accustomed to her new role in central midfield.
It was a role she would be relishing; Cuthbert had been in conversation with Hayes about her desire to play in central midfield for a while, having been fielded as the roaming left-sided midfielder. Though she had been deployed there last year, there was less strategy behind what she was being instructed to do. This season has been entirely different, with Cuthbert having an 88 per cent pass completion rate and connecting well with her teammates.
"This pre-season, I've had a lot of time to solidify the ins and outs and nail down the position," she said in an interview with 90mins.
Her partner-in-crime, Sophie Ingle, has been beside her, having developed a wealth of experience in the role for Wales, and the pair so far have been a reckonable force. Ingle particularly had done such a good job that Hayes rewarded her with a two-year contract extension. She described it as getting a call about the offer, and simply telling her agent: 'get it done'.
With the duo soaking up the pressure in midfield, it's allowed Chelsea's wingers to stretch opposition defenders on the wings and broaden the dimensions of their interchangeable attack – something that will be key against Arsenal's number nine, Stina Blackstenius.
Leading the charge is Guro Reiten. Over the last two seasons, the Norwegian international has revitalised Chelsea's left-wing, proving to be a deadly feature of the Blues' 4-2-3-1 attack.
Most recently, she snapped up the December Player of the Month, undoubtedly for her four-assist performance against Leicester City. Reiten was easily able to provide for the likes of Sam Kerr and Lauren James, snatching a goal for herself too in an eight-goal thrashing of the Midlands side. She now has a whopping nine assists in 10 games.
Where she has been key is drifting in centrally and picking out key passes for James and co. Given that Arsenal have parted ways with Jordan Nobbs and are pivoting with Kim Little as the deepest midfielder, keeping Reiten confined to the by-line will be one way to contain this Chelsea team.
If Hayes' side can keep the momentum going with their current midfield plans, then their chances of emulating their success will amplify. That begins this weekend against Arsenal, and more chiefly, the Gunners' new attacking signing Victoria Pelova.
Keep your eyes peeled on how the Blues fare over the rest of the season live on Sky, with all 35 games available across Sky's flagship channels, including Sky Sports Premier League, Sky Sports Football and Sky Sports Main Event.
You can also keep up with the latest WSL news on 'Inside the WSL', hosted by award-winning broadcaster and journalist Jessica Creighton.
Source link